All of us have been faced with the situation when the iPhone battery is closing on 19% and we feeling that our phone is running on empty. See two products, made by Mophie, a California-based company and developer of the Juice Pack Air, the first ever "Works With iPhone" portable battery case to be certified by Apple.
Read more about the similarities and differences between Juice Pack Air for iPhone 3GS and the Juicy Pack Air for iPhone 4.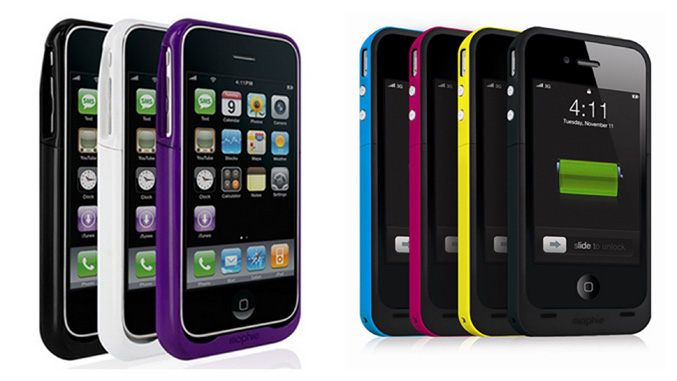 Both portable charger models have similar features. At the bottom of the both cases have a power switch that allows you to put the unit on charging. Plugging the unit in with the included USB cable, will charge both the phone and the case.
Both models also have an LED status indicator that marks exactly how much power remains in your device.
The charge time for the Mophie cases is the same as the standard charge time for iPhone.
The 3GS case has a battery capacity of 1200mAh, which provides to users an added talk time of up to 4.5 hours on 3G, an expanded internet use of up to 8 hours on Wi-Fi and up to 27 hours of audio playback.
The 4 case has a battery capacity of 1500 mAh, which will provide to the users an additional talk time of up to 6 hours on 3G, up to 9 hours internet use on Wi-Fi and up to 36 hours on audio playback.
The iPhone 3GS case took about 3 hours to fully charge up, while the iPhone 4 case took only 1.5 hours to charge.
These cases are very stylish and don't add any obtrusive and bulky lines to your phone. The convenience of an additional power source for your iPhone is obvious and you have the comfort of fully charged battery for when you need it the most.
Full review of the product you can see here.