The Ultimate headset!

CeBIT 2009, Twent Firsth Century, smartphones, wireless, Bluetooth…stop, shut up!… You only need a hands free for your cellphone. Right !? Cell Mate is your mate… No realy I've seen a lot of things, but this one is the ultimate product – wittily, cool, shiny, stylish, glorious and this "mate" being shown at CES this year.
What can I say more …just look at THE Cell Mate a piece of metal and Velcro that actually clips your cell phone to your head! Outstanding!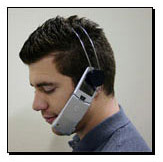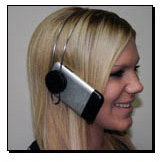 "Never settle for sub-par reception. Never worry about charging your Bluetooth headset. Never risk your safety trying to sync your headset with your phone while driving. Not only does the Cell-Mate fit all cell phones, but it is also great for cordless phones in the home."
Source: http://www.cell-mateus.com/