At CTIA Wireless 2010, Yahoo! Inc. launched two new innovative applications for Apple iPhone(R) and iPod touch(R) — Yahoo! Sketch-a-Search and Yahoo! Search — providing consumers with fun, entertaining, and engaging search experiences that deliver powerful information in a fast, locally aware, and elegant manner. Both apps are available beginning today from the iTunes(R) Store at http://itunes.com/apps/yahoosearch and http://itunes.com/apps/yahoosketchasearch.
Yahoo! revolutionized mobile search in 2007 with the launch of Yahoo! oneSearch, which delivered answers, not just Web links. This consumer experience signified a tipping point in the industry as Yahoo! fundamentally changed the way consumers used search on their mobile phones. The industry took note — Yahoo! has partnered with more than 80 leading carriers and original equipment manufacturers around the world to deliver an industry-leading mobile search experience to millions of users, and competitors subsequently modified their products to remain competitive. Yahoo! continues to innovate and invest in mobile and search by redefining how consumers access the information that's important to them.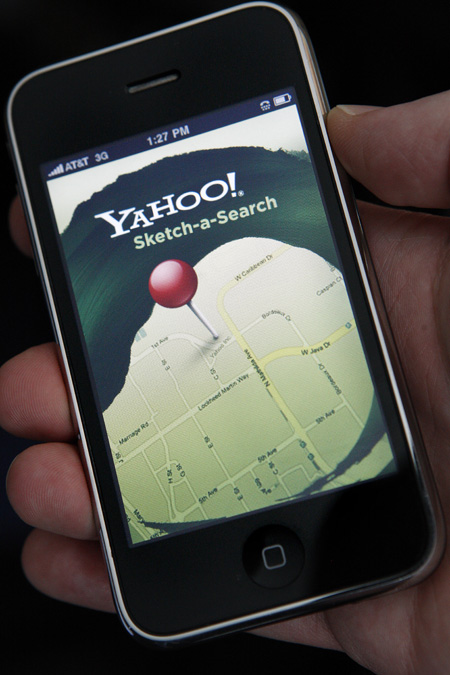 "Yahoo! is defining the next era of the Internet, search, and mobile, by demonstrating what's possible when you leverage innovative design and technical prowess to engage people with personally relevant experiences," said David Ko, senior vice president of Yahoo!'s Audience, Mobile, and Local businesses. "We're growing our mobile audience globally by providing people with search experiences that have simple input and discovery methods, and advertisers with a highly engaged mobile audience."
Yahoo! Sketch-a-Search iPhone App
Yahoo! Sketch-a-Search makes search even easier, without typing keywords or thinking about search terms. You simply draw a boundary on your phone's map to discover local businesses within that location. Yahoo! Sketch-a-Search delivers robust local content without people needing to know the neighborhood. Initially available for restaurant searches in the U.S., Yahoo! Sketch-a-Search will launch additional local categories on an ongoing basis and extend to international markets in the near future.
Key features include:
Sketch and Discover: Use a finger to draw a circle, line, or any shape to get a bird's eye view of what's nearby in a specific area or on a specific street.
Location Awareness: Defaults to a person's current location, remembers previous locations, and allows people to search for a specific city or an area of interest.
Robust Local Content: Filter restaurant results by cuisine, ambiance, and star rating. Click on restaurants to read reviews, browse photos, get directions, or make a phone call — all directly within the app.
Shake to Clear: Shake the device or click on the Sketch icon to start a new Sketch-a-Search.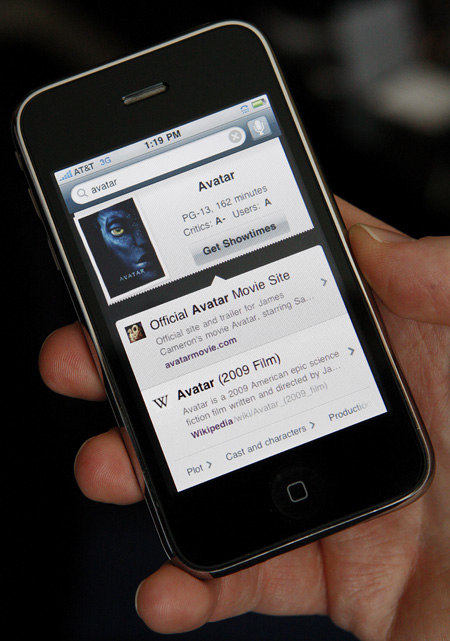 Yahoo! Search iPhone App
Maximized for speed, the Yahoo! Search iPhone app revolves around an innovative interface that delivers contextually relevant results quickly and efficiently. A bevy of features — tightly embedded maps, localized query suggestions that display as you type, intelligent search history, voice search, and rich content and information from Yahoo! and other sources that appear directly in the results — creates an optimal experience for finding exactly what you need. The Yahoo! Search iPhone app is available in 22 markets across North America, Latin America, Europe, and Asia, and will continue to roll out to additional locations.
Key features include:
Fast Results: Get results, detailed summaries at a glance, and instant, local suggestions that display as you type with Yahoo! Search Assist.
Local Shortcuts: Refine results based on your location with embedded maps and location-aware technology. Then call a business or get directions with a single click, all without leaving the results. (Currently available only in the U.S.)
Rich Local Content: View photos, ratings, phone numbers, and more from Yahoo! Local, Yelp, and Citysearch.
Rich Results: Get the answers you're looking for — not a list of meaningless links — with search results that are infused with specific, helpful information from Yahoo! Sports, Yahoo! News, Yahoo! Finance, Yahoo! Movies, and other providers.
Integrated Voice Search: Don't type — just speak your query, making input easy and fast.
Intelligent Search History: Get quick access to recent searches and local businesses.
Shake to Clear: Shake the device to start a new query.
Source: Yahoo, Businesswire