Mitsubishi Digital Electronics America, Inc. announced its 2009 line of Premium Flat Panel TVs. Newly branded Unisen(TM), the three new series all feature a fully integrated 16-speaker Dolby(TM) Digital 5.1 channel surround system.
Each new premium flat panel TV delivers the optimal blend of superior picture performance with unparalleled immersive sound technology, providing viewers with a complete sensory experience. Unisen will allow consumers to enjoy concert quality sound in their homes, without the need for separate home theater components. The Unisen 2009 line-up will feature screen sizes ranging from 40 to 52 inches.
"Mitsubishi is a very unique television brand, and in a virtual sea of flat panel TV offerings, so too is our new Unisen Immersive Sound Television," said Frank DeMartin, vice president of marketing, Mitsubishi Digital Electronics America. "Unisen was built upon the principle of uniting world-class video imagery with fully integrated immersive sound technology to streamline and efficiently enhance the consumer's home theater entertainment experience. Coming off the heels of our 2008 introduction of the world's first Laser TV, LaserVue, our 2009 line of Unisen TVs are yet another prime example of Mitsubishi's ongoing dedication to consistently deliver the most innovative television products to the market."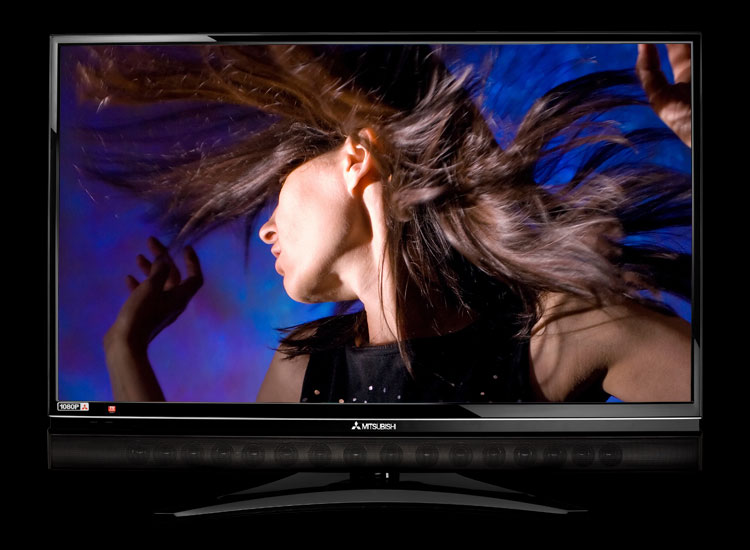 How Unisen Works
Conceived and built with Mitsubishi Digital Electronics America expertise and precision, this revolutionary immersive sound television features 16 intelligent speakers that direct perfectly balanced audio waves beside and behind the user to reproduce 5.1 surround sound and create an unparalleled entertainment experience. Through the use of an advanced algorithm, the sound technology delays the sound beams and projects them independently from the 16 speakers at varying intervals, to create fully immersive surround sound.
Consumers who value both their space and time will find that Unisen's built-in 16 speaker immersive sound technology delivers high quality sound quickly and completely, with simple setup and ongoing user-friendly operation. Upon initial set-up, the user can enter specific room dimensions into the on-screen graphical interface, or simply utilize the calibration microphone to calculate and set the sound beams for optimal sound within the specific room environment. The user can also adjust the direction, location, and sound levels for each of the five surround channels. The output level for the sub woofer is also directly controllable from the remote control.
With a simple user interface and audio supported by both HDMI and digital audio inputs, Unisen is designed to deliver optimal sound in typical room settings and supports easy connection to DVD and Blu-ray players.
Product Features
Mitsubishi Unisen TVs combine ultra compact design and advanced video performance to deliver a gorgeous picture, in a beautifully crafted display. Each model features a New UltraThin Frame(TM) design delivering a frame measuring less than one inch, advanced Smooth 120Hz Film Motion for viewing of fast and slow moving programs and Enhanced Color. Every model features wide color gamut backlight technology to reproduce approximately 25 percent more color than most LCD-TVs. All Unisen models are EnergyStar(TM) 3.0.
"This is sound the way it was meant to be heard – effortlessly and true to life," said David Naranjo, director, product development, Mitsubishi Digital Electronics America. "We have been hard at work developing a technologically unique product that can easily fit in anyone's lifestyle, and provide consumers with the opportunity to experience superior home entertainment in its most efficient form."
Availability and Pricing
Mitsubishi Digital Electronics America will ship Unisen to authorized retailers in the United States in May 2009. Retail pricing will be as follows:
    Unisen 249 Diamond Series
    46 in. - $2,799.00     52 in. - $3,299.00

    Unisen 153 Series
    40 in. - $1,999.00     46 in. - $2,399.00     52 in. - $2,899.00

    Unisen 151 Series
    40 in. - $1,799.00     46 in. - $2,199.00     52 in. - $2,599.00

Source: 

PR Newswire