SANYO Electric Co., Ltd. is pleased to announce the release of a new high-brightness high-resolution Wide XGA projector on June 21, 2010. The new projector offers the highest brightness in its class at 5,500 lumens and is ideal for use in lecture halls and large conference rooms.
Since the inception of the projector market, SANYO has been leading the industry through its development of out-of-the-box functions and high-brightness/high-image-quality technologies. Last year, SANYO launched the LP-XM150 and LP-XM100 XGA portable projectors with the highest brightness in their class2. These models have been adopted and well received by universities and other institutions.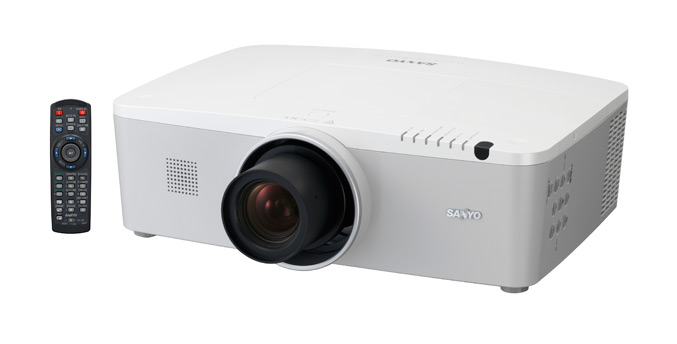 Main Features
1. High-resolution Wide XGA compatibility, with the highest brightness in its class at 5,500 lumens
A higher level of brightness offers bright and beautiful big-screen projection
The adoption of a high-resolution Wide XGA panel enables projection of 16:10 aspect ratio Wide XGA (1280 x 800 dot) images.
Compared to the 4:3 aspect ratio XGA (1024 x 768 dot) format, the size of the screen has been greatly expanded, enabling the display of even more information.
Optical efficiency has been enhanced by 40%compared to a conventional model
Newly developed optical engine and cooling technologies have realized a brightness of 5,500 lumens, the highest brightness in their class.
With the ability to project large images that are bright and beautiful, the new projectors have a wide range of uses, including in large conference rooms and lecture halls, as well as for digital signage, which is used in brightly lit areas.

2. "Picture-in-Picture Mode" and "Picture-by-Picture Mode" for simultaneous projection of two images
Ideal for video conferencing and other applications
The new projectors feature a "Picture-in-Picture Mode" and a "Picture-by-Picture Mode" that can project two images simultaneously.
With the "Picture-in-Picture Mode," a smaller (sub) image can be shown within a main one, and the size and position of the smaller image can be specified in detail.
With the "Picture-by-Picture Mode," two images can be displayed side by side, eliminating the need to use two separate projectors.
The main image can be used to show a product commercial from a DVD, while the sub image provides product explanation materials from a computer. Similarly, one side can be used to show a presentation video, while the other side displays live video conferencing. Consequently, two separate videos can be shown at the same time with a single projector, thereby greatly expanding the scope of business or other presentations.
3. New Optical Engine using inorganic liquid crystal panels and AMF: Active Maintenance Filter system
The durable New Optical Engine using inorganic liquid crystal panels minimize effect of heat on the optical components, through the adoption of heat dissipation design and cooling technologies that SANYO has developed for professional projector models.
The "AMF: Active Maintenance Filter" system enables a filter cartridge replacement interval of approximately 10,000 hours. One cartridge containing a filter roll equal to 10 filters reduces the filter cartridge replacement frequency to one-tenth. Consequently, high reliability is provided with lower maintenance costs, while saving resources.
4. Other Features
"HDMI terminal" for digital input
"Power Vertical/Horizontal Lens Shifting Function" enables projection adjustment without changing the projector position.
"Power Zoom/Focus Function" easily operated using a remote control
"Lens Centering Design" for convenient installation
"Corner Keystone Correction" for straightening the image when projecting from an angle.
"Mechanical Shutter" for convenient pausing of projection
"Vertical 360-degree Tilt Angle Projection" allows projection on the ceiling, floor, etc.
"One Way Flow" to increase cooling efficiency
After use, the "Direct Power-off Function" allows shut down without even pressing the power button. It's all right to turn off the power using a breaker etc.
"Easy Stacking Grooves" for handy placement of a back-up projector on top
"Anti-theft Hook" is provided for chaining a projector unit.
"Auto Input Signal Search" function for automatic input signal detection.
Loud "7W Speaker (mono)" enhances listenability in a space like a conference room or a classroom.
Wired LAN terminal (RJ-45) enables control and management of the projector over a network.
Compatibility with the optional "PJ-NET Organizer" enables the image projection with network cable connection.
[Environmental Considerations]
Energy-saving design due to improved optical efficiency
Resource saving design based on the "AMF: Active Maintenance Filter system"
Conforms with the EuP-Directive Lot 6, and the EU RoHS Directive
The packaging contains pulp molds, which can be recycled as used paper
Source: Sanyo