Samsung launches as they describes it "the world's first 3D Home Theater" –  HT-C6930W, "Samsung is the first company to offer a complete 3D product line-up including TVs, Blu-ray player and home theater," said Yang Kyu Kim, senior vice president of sales and marketing, Visual Display Business, Samsung Electronics. "Samsung will continue to provide customers with best-in-class 3D experiences in the future," he added.
The system offers 3D video and 3D audio in single package with 1330W output power and promise premium sound thanks to Samsung's 'Crystal Amp Pro' technology, which minimizes sound distortion and noise by refining input sound twice, delivering cleaner and clearer sound by amplifying analog signals with complete fidelity. Other feature which Samsung also includes for optimized sound is  called 'Automatic Sound Field Optimization' that automatically calculates the distance from speaker to listener to provide a true immersive 3D experience at home.
The system is equipped with Wi-Fi wireless and AllShare home network technology, which allows you to play  multimedia content stored on PCs  and mobile phones through both wired and wireless networks. This also will give access to Internet@TV, different internet service and allows users to enjoy useful information on the internet such as news, weather, stocks, UCC and movies for free.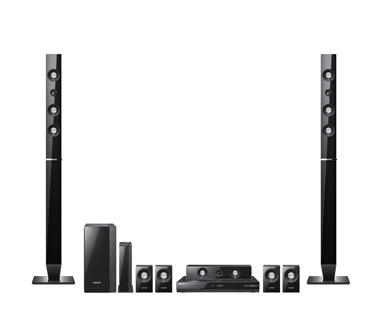 You must take out $899.99 of your pocket for this 3D Home Theater system
Specification:
General
Total Power
1330 W
Number of Channels
5.1
Supporting Media
DVD Disc Capacity
1
CD/CD-R/CD-RW
Yes
DVD/DVD±R/DVD±RW
Yes
MP3
Yes
JPEG Viewer
Yes
DVD-Audio
No
DIVX (including XVID)
DivX HD
BluRay
Yes
Audio Processing
Dolby Digital
Yes
Dolby Pro Logic II
Yes
Dolby Pro Logic IIx
Yes
Dolby Digital EX
No
Dolby Digital+
Yes
Dolby True HD
Yes
DTS
Yes
DTS ES Discrete 6.1
No
DTS 96/24
No
DTS Neo 6
No
DTS-HD
Yes
Connectivity
Anynet+
Yes
Wireless-Ready
Yes
Wireless Module included
Yes
USB HOST
Yes
Composite Inputs
No
Component Inputs
No
HDMI Inputs
2
HDMI Out
Yes
SCART Out
No
Audio Inputs
1
Optical Inputs
1
Coaxial Inputs
No
Multi ch in
No
Multi ch out
No
i-Pod
Yes (video, audio and iPhone compatible)
Headphone Jack
No
Mic Jack
No
Tuner
XM-READY
No
FM
Yes
RDS
Yes
AM
No
Speaker
Type(Sat/Tallboy)
2 Tallboy
Active(Powered) S/W
No
Dimensions & Weight
Set Net Dimension(W*H*D)
10.9″x 1.5″x 8.4″
Spk (sub woofer) Net Dimension(W*H*D)
4.3″ x 8.9″x 7.5″
Spk (front) Net Dimension(W*H*D)
2.3″ x 33″ x 3.0″
Spk (rear) Net Dimension(W*H*D)
2.3″ x3.6″ x1.7″
Spk (center) Net Dimension(W*H*D)
9.1″ x1.9″ x 1.7″
Gross Weight: One Packing
33 lbs
Gross Dimension (W*D*H) : One Packing
25.5″ x 9.0″ x 10.6″
Source: Samsung