Ladies and Gentleman the Apple's new iPhone is official! The company today unveiled the much anticipated iPhone 4S, along with the its new iOS 5 mobile operating system and iCloud services.
If you have been expecting a completely new design, sorry, the outside of the new iPhone 4S looks almost identical as the "old" iPhone 4- a mix of stainless steel and glass, and it also shares the same dimensions (115.2 mm x 58.6 mm x 9.3mm at 140 grams) and has same 3.5 inch (960×640) Retina Display, but inside it has received a noticeable upgrades.
The Apple iPhone 4S is powered by dual-core A5 chip which includes also dual-core graphics, same that powers the iPad 2 and according to Apple, delivers up to twice the processing power and up to seven times faster graphics than iPhone 4. It is also equipped with a new 8 megapixel camera with full 1080p HD recording capabilities and new video image stabilization feature, paired with a new custom lens, a larger f/2.4 aperture and an advanced hybrid IR filter for more brighter and more accurate images. The new camera is pretty fast, you can take a photo in 1.1 seconds and just half of a second for the next shot.
Apple also upgrades the connectivity of the 4S, it is now a true world phone, supporting both GSM and CDMA networks and also offers twice the download speed with HSDPA of up to 14.4 Mbps. As far as battery life, it is improved now up to 8 hours of 3G talk time and music playback tops out at 40 hours.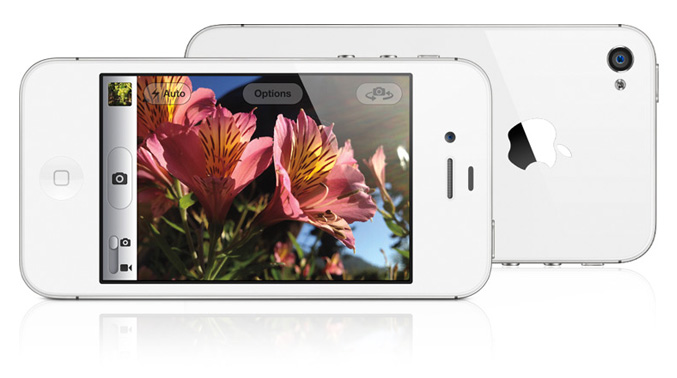 Along with the new iPhone 4S, Apple has also introduced Siri, "an intelligent personal assistant" that will allow you to use your voice to send messages, schedule meetings, place phone calls, find local businesses, get directions, and more. Apple claims that Siri understands context allowing you to speak naturally when you ask it questions, and if you ask "Will I need an umbrella this weekend?" it understands you are looking for a weather forecast. So you could ask for anything, Siri will try to answer you, search the Internet, make notes, and even perform complex calculations just by asking. Siri will be available in beta on iPhone 4S in English (localized for US, UK and Australia), French and German.
The iPhone 4S will be available in either black and white with the following prices -$199 for the 16GB model, $299 for the 32GB model and the 64GB model will cost you $399. In the USA iPhone 4S will be available from the Apple Online Store, Apple's retail stores and through AT&T, Sprint, Verizon Wireless, pre-orders will start on October 7, while shipment will start from October 14.
iPhone 4Sis expected to be available worldwide to 22 more countries by the end of October including Austria, Belgium, Czech Republic, Denmark, Estonia, Finland, Hungary, Ireland, Italy, Latvia, Liechtenstein, Lithuania, Luxembourg, Mexico, Netherlands, Norway, Singapore, Slovakia, Slovenia, Spain, Sweden and Switzerland.
The iOS 5 will be available on October 12 as a free software update via iTunes 10.5 for iPhone, iPad and iPod touch customers.