Toshiba Europe GmbH announced a new series in its RV range of LCD TVs. The RV733 series is aimed at consumers who value a high quality viewing experience, sophisticated usability and broad connectivity at an affordable price. The RV series spans three models with different screen sizes: the 81.3 cm (32") 32RV733, 93.4 cm (37") 37RV733, and 101.6 cm (40") 40RV733. They will be available in March throughout Europe.
First class picture quality
Toshiba's RV733 series sets come with a Full HD 16:9 panel with 1920 x 1080 pixels to meet consumers' demand for high picture quality. To tap the full potential of the Full HD panels – the vast majority of content in Europe is still in SD quality – the RV733 TVs feature Toshiba's upscaling technology Resolution+. Powered by Toshiba's MetaBrain processor Resolution+ upscales content from standard definition (SD) sources to near high definition quality with improved edge detail and texture. A natural colour reproduction in accordance with movie production standards and the high dynamic contrast ratio of 50.000:1 boost the impression of sharp and brilliant picture quality close to HD level.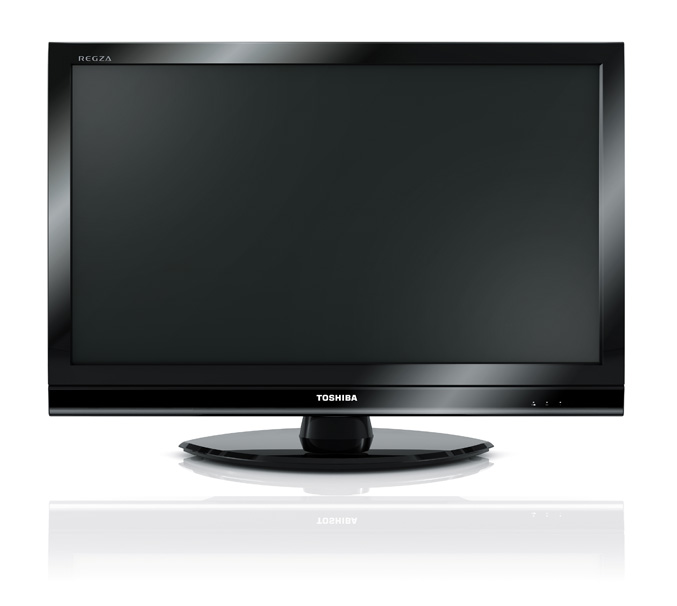 Simply relax
Toshiba is committed to offering first class features that allow users to completely relax in front of their TVs. MetaBrain also drives AutoView™, a feature that automatically selects the ideal image settings, such as brightness, contrast, gamma, sharpness and colour saturation during initial setup and permanently adjusts the settings according to the ambient light and the displayed content. The usage of this autoconfiguration can even reduce power consumption. The Dolby® Volume sound levelling application ensures a consistent volume level once chosen by the user, even during commercials and while changing channels. And last but not least the RV series are Toshiba's first REGZA TVs featuring SoundNavi. SoundNavi automatically adjusts the sound settings according to the way the TV is mounted and provides even stronger sound projection, enabling integrated TV speakers to powerfully direct audio to the nearest hard surface and amplify sound in the same way as freestanding TVs.
Part of a wireless connected home
Anticipating the raising demand for connectivity in consumer electronics home devices, Toshiba equipped its RV733 series with a variety of interfaces: All RV733 TVs are Wi-Fi® ready for wireless connection via an USB dongle with WLAN interface. Support of Wi-Fi® Protected Setup (WPS) enables the addition of WLAN connections to the home network easyily by a push of a button. Thanks to the DLNA® (Digital Living Network Alliance) certification the RV733 series can share content with other digital devices in an existing home network.
In addition to WLAN connectivity, all RV733 models come with two USB and two Scart interfaces, a PC port, LAN interface, headphone output, ports for digital audio output, component video input and a DVB common interface. To receive uncompressed signals from a source device the RV733 series is equipped with four HDMI 1.4 (High Definition Multimedia Interface).
A CI+ slot (Common Interface) enables users to subscribe to different pay TV channels. When connected to a games console or a PC the RV733's Game Mode and PC Mode respectively automatically adjust the picture settings and adapt the picture to the screen format of the TV accordingly.
Sustainable and eco-friendly
As a responsible global corporate citizen, Toshiba is effectively reducing the environmental impact by restricting the use of lead, mercury and certain other hazardous substances. The packaging is made completely of recycled and recyclable materials. The full power down option of RV733 completely switches off the TV instead of setting it in the stand-by mode. Toshiba's Eco Panel ensures reduced power consumption even in the CCFL sector. The LCD panel's extraordinary high translucence halves the light quantity needed for backlighting compared to conventional panels. Thus the ECO panel works with less Cold Cathode Fluorescent Lamp (CCFL) backlights than conventional LCD panels.
Source: Toshiba