The DVR Xpander does exactly what its name implies, it instantly expands the number of television shows, movies and sporting events you can store on your DVR. The Digital Video Recorder (DVR) has changed the way you watch TV, putting you in complete control of when and how you watch the programs you love.
Unfortunately there is never enough space on the DVR hard drive to record everything you want to watch, especially if you are recording it in high definition. When the hard drive is full you must delete shows to free up space for the new programs you want to watch.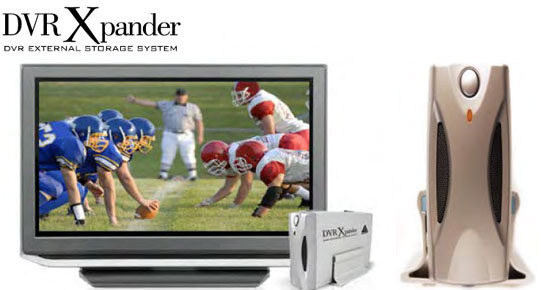 The DVR Xpander solves the storage space problem by allowing you to instantly add up to 843 hours of standard TV or 187.5 hours of high definition programming with the DVR Xpander 1.5 Terabyte. DVR Xpander is the perfect companion for the Scientific Atlanta 8300 series DVR or any DVR equipped with an active eSATA port. Many cable companies offer Scientific Atlanta 8300 series DVR's with an activate eSATA port. If you are uncertain whether your DVR supports external storage, you can check Apricorn's website, search the internet by DVR model number, or contact the DVR manufacturer.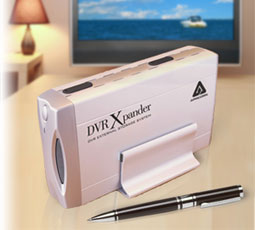 DVR Xpander has an ultra-cool fan that keeps the enclosure at optimal temperature which will extend the life of your hard drive. The sleek aluminum enclosure operates in horizontal and vertical configurations. The package includes a 500GB, 750GB, 1TB or 1.5TB DVR Xpander and stand, eSATA cable, AC power adapter and Quick Start Guide.
How many hours will the DVR Xpander add to my DVR?
| | | | | |
| --- | --- | --- | --- | --- |
| | 500GB | 750GB | 1TB | 1.5TB |
| Standard TV | 281 hours | 421 hours | 562 hours | 843 hours |
| High Definition TV | 62 hours | 93 hours | 125 hours | 187.5 hours |


Features

DVR/PVR Upgrade Hard drive

Instantly add up to 843 hours of your favorite programs

The perfect companion for the Scientific Atlanta 8300 series DVR

Compatible with any DVR that has an active eSATA port

Ultra-cool fan keeps the drive at optimal temperatures, extending the life of your hard drive

Whisper quiet SATA hard drive

Designed to provide enhanced reliability in high duty cycle environments

Supports multiple stream high definition video

Use Horizontal or Vertical

Simple and Easy to Use, 1 Plug it into the DVR, 2. Format Hard Drive, 3. Start Recording

1 year Warranty
Box Contents
3.5″ Hard Drive and enclosure

External Shielded eSATA Cable

AC Power Adapter

Vertical Stand

User's Manual