Looking for a stylish music system that's more than a dock for an iPod®? Unveiled today from Sony is a new line of multi-functional compact audio system: the NAS-Z200iR and CMT-Z100iR. While minimalist in style, they are packed with superlatives. Features include a docking station for an iPod, a slot loading CD player, a USB port, PC streaming and Internet radio (NAS-Z200iR) and an integrated AM/FM radio. And with Sony's engineering expertise and excellence in sound, your music is released in hi-fi quality.
NAS-Z200iR – PC streaming with intuitive remote control
In today's digital environment, music sources are multiple: MP3 players, PCs, CDs, phones, radio, etc. To be able to easily access, connect and share is key for a seamless music listening experience. The NAS-Z200iR is DLNA Certified™ with Wi-Fi®, which means devices with this industry certification can talk to each other and allow easy data transfer wirelessly. So you can access the music library that's on your PC and play your tracks back on the Z200iR all from your sofa or bed. Listening to Internet radio is also easy and fun directly using your home network and making radio station selection from Z200iR's remote control.
Whether it's choosing radio stations or songs from your PC or iPod, the remote control's large 3.5-inch LCD display and friendly user interface allow you to sit back and relax for an uninterrupted music listening experience. Selecting by artist, album or song in your iPod is also easily done from the remote control without having to get up for your player to find what you're looking for. The battery is rechargeable, and the colour display is lit only when in use.
With Sony's audio system, the flexibility is readily there to playback from different sources thanks to the integrated CD player, USB connectivity for a Walkman® or any other MP3 player and an audio-in port. The CD player, which will play both audio CD and CD-R/RW discs with MP3 tracks, is discreetly integrated into Z200iR's sleek design. If you like to listen to the radio in the morning, there's AM/FM radio as well. All the choices are there.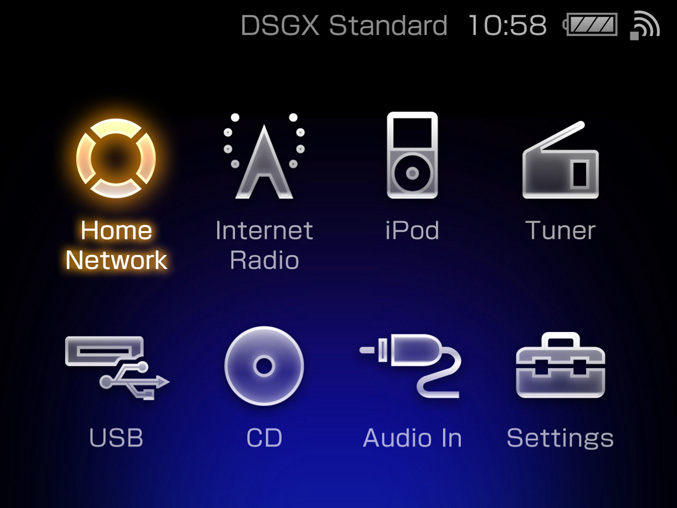 Skilfully hidden under NAS-Z200iR's minimalist style is not only its multi-functionality but also its power to deliver sound. For the system, two independent speaker enclosures are incorporated (20W x 2), unlike some systems which use a common or single enclosure. For higher fidelity stereo sound, the enclosures are carefully constructed within the confines of space, to keep vibration between the speakers and the main unit to a minimum. For powerful and natural bass performance, strong magnets are required. In order to achieve this in such a compact unit, double neodymium magnets are utilised for the bass drivers.
CMT-Z100iR – offering a simple solution for hi-fi enthusiasts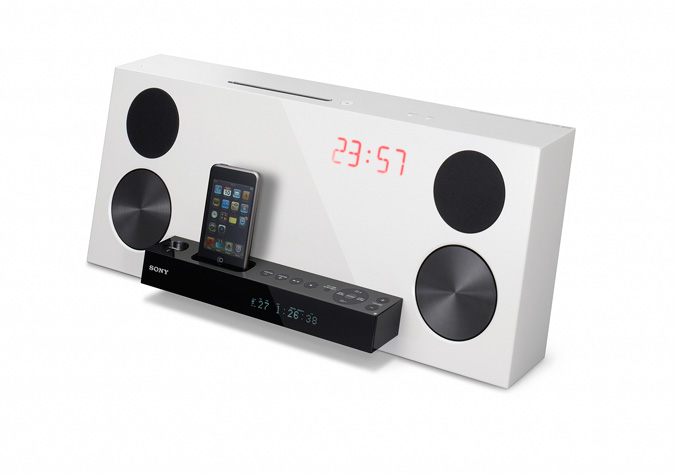 The CMT-Z100iR is another svelte compact sound system, not only in glossy black but also in white. Its multiple features include iPod / CD / USB playback, an AM/FM radio tuner, an audio-in port, 20W x 2 speakers, a remote control and a large display that shows the time and selected function. Sharing the acoustic technologies used in the Z200iR, your music is released in rich and clear sound that's beyond expectations from a system this small. The bass/treble adjustment allows you to tailor the sound to your preference.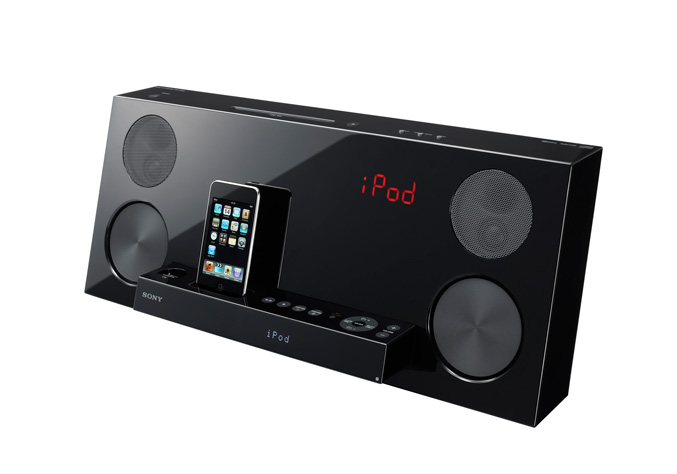 For added convenience, both the NAS-Z200iR and CMT-Z100iR can be wall mounted with a VESA wall bracket, which is a standard mount used also for TVs. The CMT-Z100iR is available in July and the NAS-Z200iR will come to stores across Europe in mid September.
Source: Sony