Hercules, a specialist in IT devices and accessories expands its successful XPS branded multimedia speaker line with the new XPS 2.0 40 Slim and XPS 2.1 40 Slim Speakers. This modern system delivers sound clarity and style with a black lacquer finish. Among current speakers on the market, the XPS 2.0 40 Slim also offers the slimmest design available.
This aesthetic achievement is combined with a genuine technical advance that very few other 2.0 satellites have, a slim appearance with clear and pure sound. For those who enjoy a greater output power and maximum bass response, the Hercules XPS 2.1 40 Slim speakers featuring two satellites with a powerful subwoofer is the perfect match. Ideal for a contemporary home and just in time for the holiday gift giving season, the XPS 2.0 40 Slim will be available for the SRP of $34.99 and the XPS 2.140 Slim will be available for SRP $59.99 in early November 2009.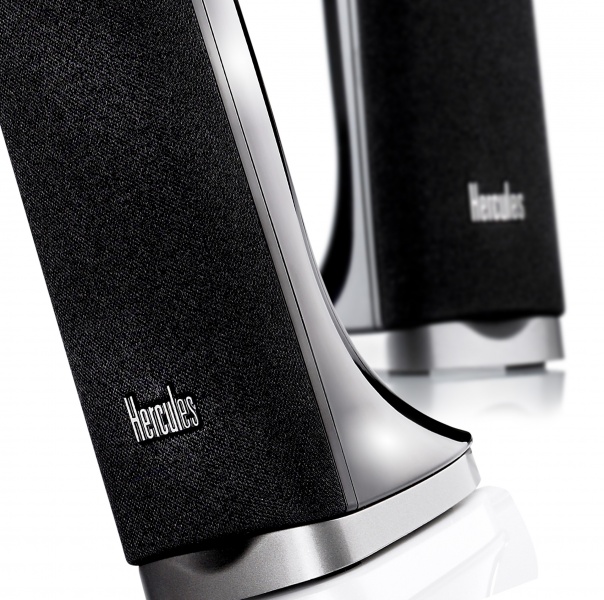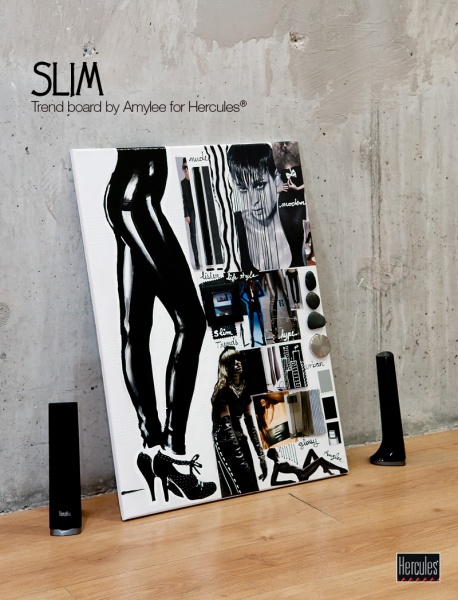 Hercules XPS 2.0 40 Slim
Finally, an ultra-slim speaker solution that matches the trend of slim PCs, the new XPS 2.0 40 ultra slim speakers bring harmony to your home and to your ears. Less than 2 1/2″ wide and 9 1/2″ tall, the XPS 2.0 40 Slim blends in with your interior décor elegantly and subtly providing you with more work space and less clutter. The speaker fabric used and striking black lacquer finish highlighted by a touch of aluminum color give a "Techno Deco" look matching the latest trends in computer designs. Hercules has specifically adapted their technology so that the slender shape of the XPS 2.040 Slim is integrated with perfectly clear sound previously achieved only through bulkier sound systems. The speakers are also magnetically shielded so as not to disturb anything in its surrounding environment. Designed with a high-quality speaker grille fabric, they offer a total power of 5 watts RMS, 10 watts at peak.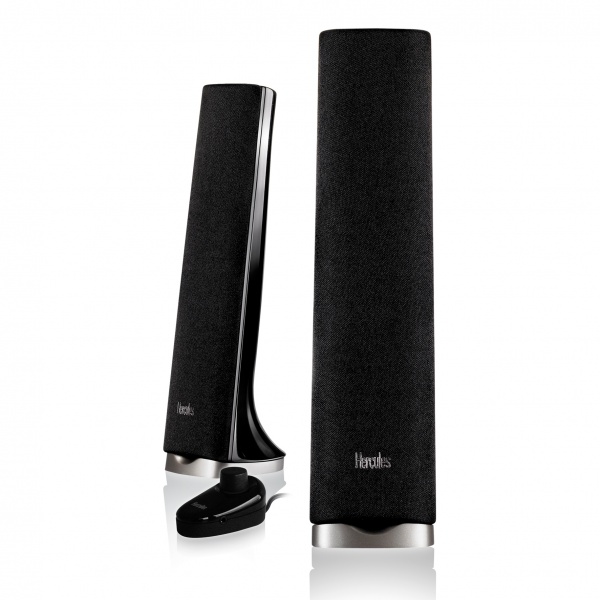 Hercules XPS 2.1 40 Slim
Combining elegance with quality, the XPS 2.1 40 Slim model includes two magnetically shielded satellites with the same refined and ethereal design. Its subwoofer, crafted entirely of wood, ensures a powerful bass presence. The subwoofer also features an extremely fine-grained finish, inspired by high-end audio system subwoofers. With 32 watts RMS (8 watts per satellite + 16 watts for the subwoofer), the XPS 2.140 delivers homogeneous, perfectly balanced sound, for a truly great listening experience, whether listening to music or watching movies on a computer.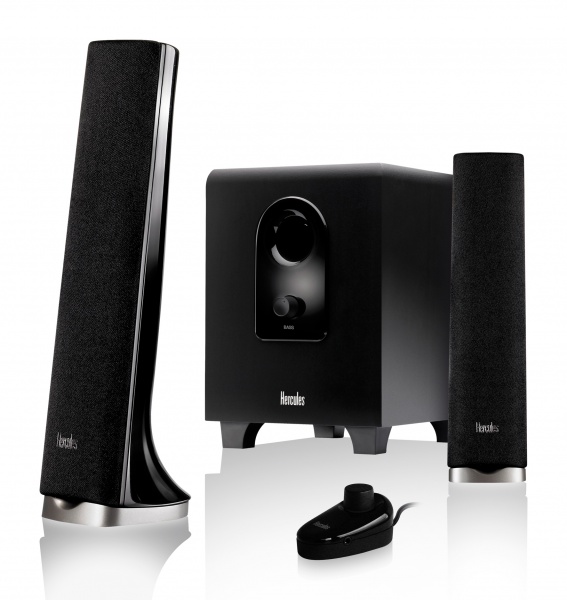 The Hercules XPS 2.0 40 Slim and XPS 2.1 40 Slim both come with a mini wired remote control, featuring a volume control knob, headphone jack and a handy line in input, allowing users to directly connect an MP3 player. Both are compatible with PC, Netbooks, Mac®, MP3 players, CD/DVD players, TV sets and game consoles.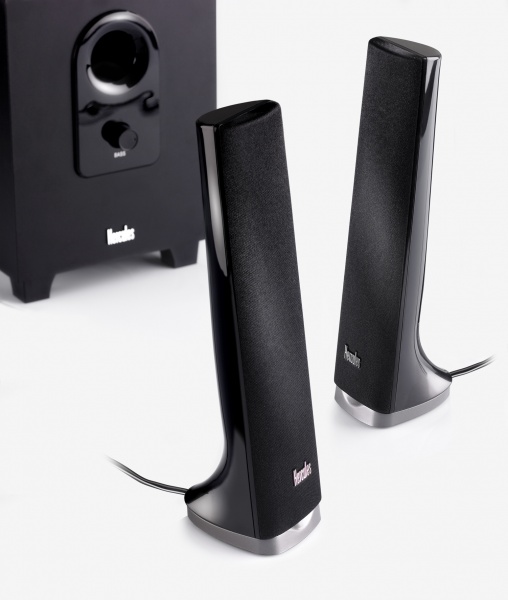 Source: Hercules