Garmin International Inc., a unit of Garmin Ltd. , the global leader in satellite navigation, today announced the nüvi 1490T – a premium automotive GPS device with a large, 5-inch touchscreen and sleek body style that is 25-percent slimmer than most nüvi models.
This large screen, ultra-thin navigator is ideal for those wanting to take advantage of Garmin's newest navigation features like free, lifetime traffic alerts and lane assist with junction view that gives added confidence when driving roads with complicated intersection and turns. The nüvi 1490T was announced in conjunction with The Gadget Show in Birmingham, United Kingdom, on April 17-19, 2009.
"The nüvi 1490T is designed to give drivers a big picture of the route ahead, while offering every-day conveniences customers want and need to take the worry out of traveling," said Dan Bartel, Garmin's vice president of worldwide sales. "With its enhanced pedestrian navigation capabilities and ultra-thin design, it's also a perfect companion for travelers in unfamiliar territory who want to explore the city on foot or with public transportation."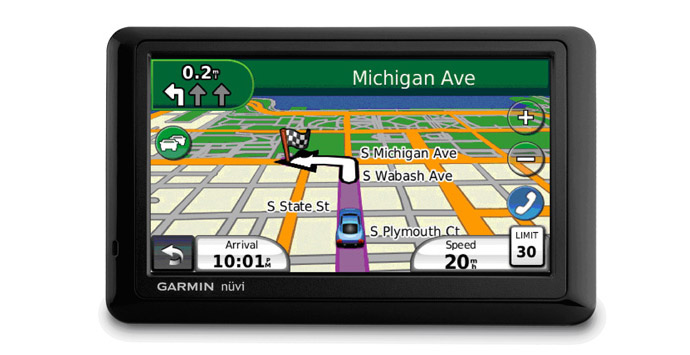 The nüvi 1490T gives clear guidance on the 5-inch touchscreen that details upcoming turns and specific driving directions, including road sign detail and arrows indicating the proper lane for navigation. With the nüvi 1490T, route planning is straightforward because the device will save 10 routes. The multiple-point routing feature makes running errands more efficient because the nüvi will calculate the most efficient route between multiple stops. For trips across the country, drivers will benefit from the automatic time zone transition feature that automatically sets the unit to the correct time zone. In addition, a speed limit indicator displays speed limits for most major roads.
For the ultimate in convenience, the nüvi 1490T also makes it easy for drivers to steer clear of traffic accidents, road closures and construction. An integrated traffic receiver comes standard with the nüvi 1490T and gives free, lifetime traffic alerts without a subscription fee. The free lifetime traffic alerts are from NAVTEQ Traffic and are available in select coverage areas. Lifetime traffic alerts extend for the useful life of the nüvi unit or as long as Garmin receives traffic data from its traffic supplier.
To help drivers make their gas tanks go the extra mile, the nüvi 1490T comes standard with ecoRoute™ that suggests fuel-efficient navigation. In addition to "faster time" and "shorter distance" for route preference, ecoRoute lets nüvi users choose "less fuel" as the best way to save gas and money. Through ecoRoute's Fuel Report and Mileage Report, drivers can focus on their fuel conservation and find fuel-saving tips along the way.
In addition, the nüvi 1490T also has Bluetooth® Wireless Technology that makes it possible to receive and place phone calls directly from the nüvi. The nüvi supports over 200 Bluetooth enabled phones, and drivers can retrieve and dial numbers using a supported phone's contact list, the phone's call history log or the nüvi's preloaded points of interest database.
The ultra-thin nüvi 1490T also offers enhanced pedestrian navigation capability with optional CityXplorer™ maps. Available for select tourist destinations in both North America and Europe, CityXplorer maps can easily be downloaded directly to the nüvi. With CityXplorer, users will make the most of their journey by planning and using routes that include public transit options such as bus and metro rail stations. Content from CityXplorer varies in cost from $9.99 – $14.99, depending on the city. A list of cities offered in North America and Europe will be available at www.garmin.com.
The manufacturer's suggested retail price for the nüvi 1490T is $499.99, and it is expected to be available in July 2009. Additional information is available at www.garmin.com and www.garmin.blogs.com.
Source: Garmin