Genius (www.geniusnetusa.com), a brand division of KYE Systems Corp., today announced a new addition to the company's extensive line up of digital tablets, the G-Pen F-509, for business professionals, graphic designers and artists on-the-go. Plug and play ready, the G-Pen comes with both Windows' Vista and Mac software.
The G-Pen F-509 has 26 programmable "Hot-Keys" for Office, Internet and Vista functions to be used for super shortcuts. The cordless pen features 1024 level pressure sensitivity and two buttons for controlling shapes and thickness. The G-Pen F-509 has a 5.25" x 8.75" working area and is easily transportable for use in a car, coffee shop or any type of mobile office. The tablet can be used to write, draw, sketch and/or sign documents, saving time and creating a great solution to paper waste. It is perfect for those creative types who like drawing, bloggers, artists, and anyone craving a digital pen as opposed to a keyboard, which only allows typing.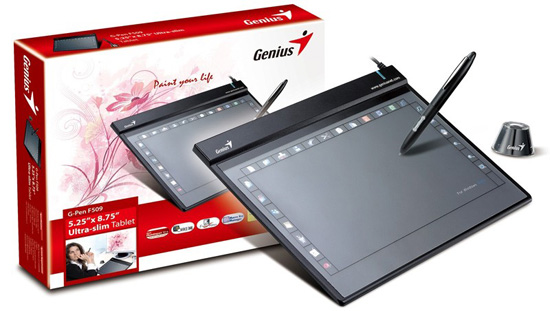 The G-Pen F-509 is attractively priced at $109 (MSRP) and is bundled with PhotoImpact 12SE, Macro Key Manager and Office Ink/Free Notes. Interested shoppers can go to New Egg.com, Amazon.com, Tiger Direct, Buy.com.
More information on all of Genius' tablet line, www.geniusnetusa.com.