GIGABYTE Technology CO., LTD., a leading manufacturer of motherboards and graphics cards, is pleased to announce their entire range of Intel® X58 chipset motherboards now officially support NVIDIA® SLI™ technology, allowing users to take full advantage of blazing-fast NVIDIA multi-GPU performance.
With a simple BIOS upgrade from the GIGABYTE website, users can enable NVIDIA SLI

support on their current motherboards for ultra smooth 3D rendering, blazing-fast frame rates and enhanced visual quality possible with a multiple graphics card solution. Whether playing current and future graphics-intensive games at max settings, or enabling multi-monitor support for enhanced productivity, GIGABYTE gives users the flexibility to design their system according to their specific needs.
GIGABYTE X58 series motherboards are designed from the ground up to unleash the awesome power of Intel's latest generation Core i7 processors. Equipped with a host of new features including the new QPI interface, 3 channel DDR3 support, Ultra Durable™ 3 technology and the industry's most extensive range of overclocking features, the GIGABYTE X58 Series is bringing excitement back into the high performance motherboard industry.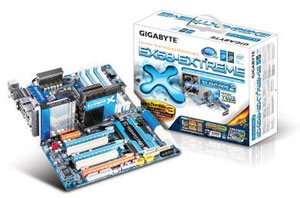 The GIGABYTE X58 Series is yet another example of GIGABYTE engineering at its best with its revolutionary GIGABYTE Ultra Durable™ 3 design, featuring 2 ounces of copper for both the Power and Ground layers which dramatically lowers system temperature by delivering a more efficient spreading of heat from critical areas of the motherboard such as the CPU power zone throughout the entire PCB. GIGABYTE's Ultra Durable™ 3 also lowers the PCB impedance by 50%, which helps to reduce electrical waste and further lowers component temperatures. A 2oz Copper layer design also provides improved signal quality and lower EMI (Electromagnetic Interference), providing better system stability and allowing for greater margins for overclocking.
To find out more, or to get the SLI BIOS upgrade for your motherboard, please visit: http://www.gigabyte.com.tw/Products/Motherboard/Default.aspx
GIGABYTE X58 Series Featuring NVIDIA® SLI™ Support
Source: Gigabyte