Apple today revealed the new updated MacBook Pro family, which now is packed with Intel's Sandy Bridge 2011 Core processors, AMD's Radeon graphics, FaceTime HD cameras and high-speed Thunderbolt I/O connectors.
The new 13-inch MacBook Pro can be powered by Intel Core i5 and Core i7 dual-core processors up to 2.7 GHz backed by Intel HD Graphics 3000. The lower end model comes with  2.3 GHz Dual-Core Intel Core i5,  4GB of DDR3 memory and 320GB hard-drive for $1,199. With faster 2.7GHz dual-core Core i5 CPU and 500GB hard drive will cost you $1,499.

The bigger brother, the 15.4-inch MacBook Pro, receive Intel dual/quad-core i5 and i7 processors choices, up to 8GB of DDR3 memory,  500GB/750GB or up to 512GB solid state drive and AMD Radeon HD6490M or AMD Radeon 6750M 1GB graphics together with integrated Intel HD 3000. The slower starting at $1,799 and with a 2.2 GHz Quad-Core Intel Core i7,750GB HDD, Radeon HD 6750M starting at $2,199.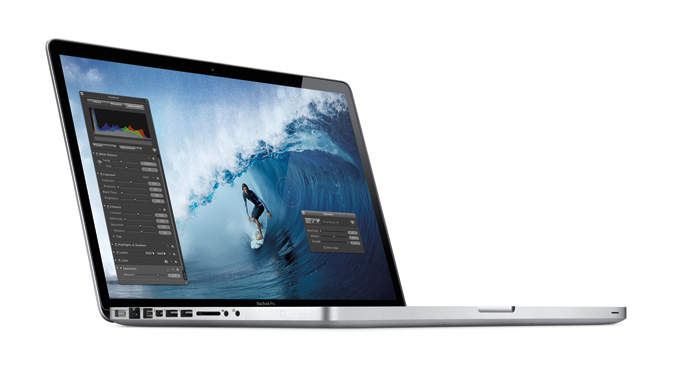 And finally is the mighty 17-incher, which has a choice of  up to Intel's quad-core 2.3GHz Core i7 processor, 8GB of memory, up to 750GB 7200RPM hard drive or 512SSD, and AMD Radeon HD 6750M 1GB.Additionally antiglare and high-resolution display options and AppleCare Protection Plan. The new 17-inch MacBook Pro start at $2,499.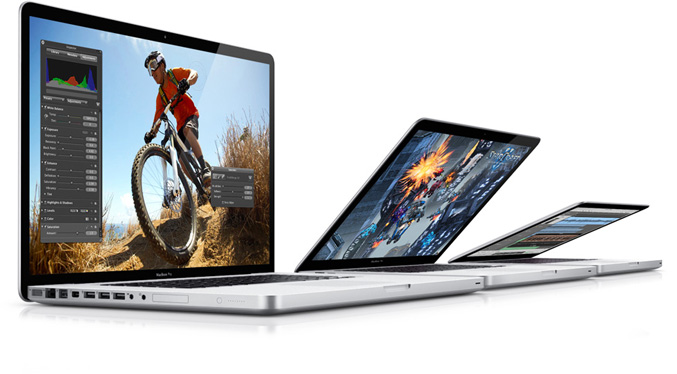 Of course this is not all, the laptops come with Gigabit Ethernet, WiFi a/b/g/n, Bluetooth 2.1+EDR,USB 2.0 ports, FireWire 800 port, SDXC memory card slot and 8x SuperDrive DVD optical drive. They now include  and the new FaceTime HD webcam "with triple the resolution of the previous generation" for better video calls.

There's also and the new Thunderbolt I/O port, featuring two bi-directional channels with 10 Gbps of throughput in both directions and offering up to 20 times faster transfer compared  to USB 2.0 and more than 12 times faster than with FireWire 800. It supports FireWire and USB devices and Gigabit Ethernet networks via adapters, as well DisplayPort for high resolution displays and works with existing adapters for HDMI, DVI and VGA displays.
The new MacBook Pro notebooks are available on Apple's online store and very Mac comes with Mac OS X Snow Leopard and iLife suite of applications for creating and sharing photos, movies and music.
"The new MacBook Pro brings next generation dual and quad Core processors, high performance graphics, Thunderbolt technology and FaceTime HD to the great design loved by our pro customers," said Philip Schiller, Apple's senior vice president of Worldwide Product Marketing. "Thunderbolt is a revolutionary new I/O technology that delivers an amazing 10 gigabits per second and can support every important I/O standard which is ideal for the new MacBook Pro."