CES 2015 will be remembered with some great digital products but the show will go into history with one more important event – the introduction of the first 14 nm Intel Broadwell processors.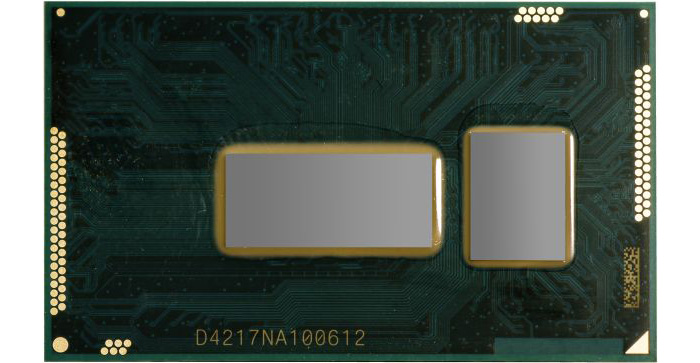 Intel officially unveiled the new chips during an event at CES 2015. They bring many more features to the table including a cutting edge 14 nm manufacturing process, more powerful integrated GPU cores, more speed and groundbreaking energy efficiency. The only problem is that we are seeing just mobile Broadwell chips as of now – desktop versions will arrive in Q2 2015.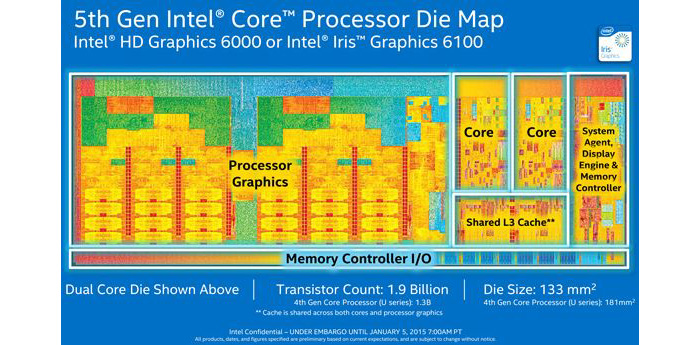 The new mobile Broadwell line has something for everyone as it includes a large number of U and Y processors that encompass Core i7, Core i5, Core i3, Pentium and Celeron processors. Most of the features in the chips remain the same as in the previous Haswell generation so expect either 4 MB, 3 MB or 2 MB of L3 cache, depending on the chosen chip, an integrated DDR3 memory controller, support for Hyper-Threading technology in Core i3, i5 and i7 processors and integrated Intel HD, Intel HD 5500, Intel HD 6000 or Intel Iris 6100 graphics, again depending on the model. A strange peculiarity of the new chips is that all models feature just two processing cores.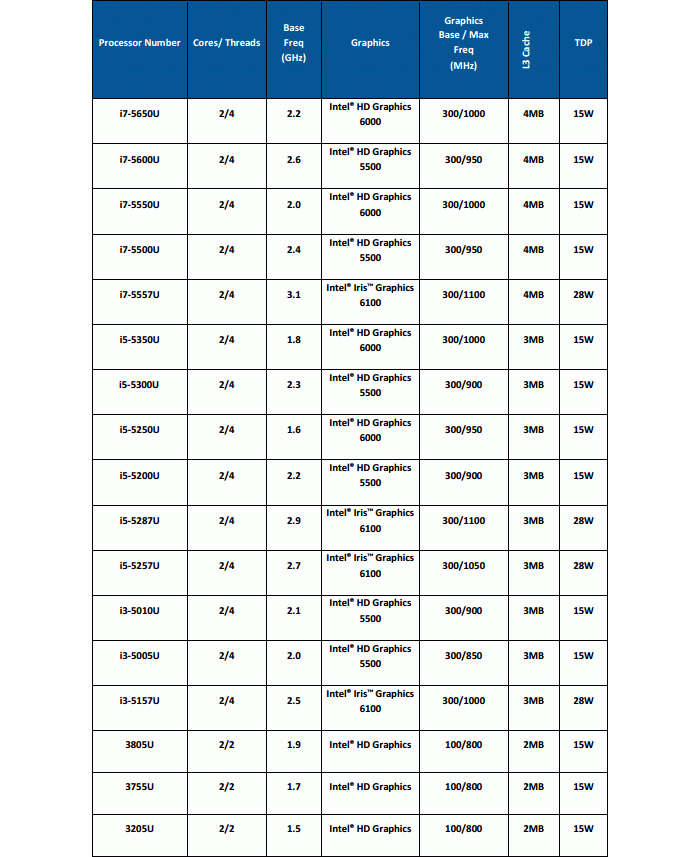 Intel says the new chip generation brings 22 per cent more 3D graphics performance, 50 per cent faster video conversions, 4 per cent more CPU power and 1.5 hours more battery life but these numbers are correct only when you compare an Intel Core i7-5600U processor with Intel HD 5500 graphics to an Intel Core i7-4600U processor with Intel HD 4400 graphics. The chips also feature 35 per cent more transistors compared to Haswell in dies that are 37 per cent smaller. A Core i7-5600U processor features 1.3 billion transistors on a die 82 sq.mm. in size while a Broadwell processor with Intel Iris graphics contains 1.9 billion transistors in a die with an area of 133 sq.mm.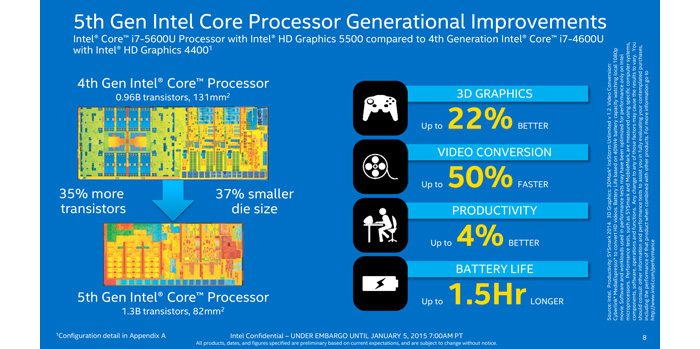 The first notebooks on Broadwell are expected this week from all partners of Intel.
Source: Intel