The 17″ CR720 is the newest model in MSI's Classic Series. Through the all-new 2010 Intel® Core™ processor with the latest Intel HM55 chipset, it gives you powerful audio/video entertainment and processing performance in a stylishly minimalist exterior. The classic horizontal design lines on the outer up lid and palm rest areas are treated with MSI's exclusive CFP coating that protects against scratches and wear. With its spirited performance, fashionable exterior and friendly disposition, the CR720 is an exceptional entertainment, learning, and work companion!
MSI Notebook Marketing Director Sam Chern noted that the CR720 is MSI's latest offering and features Intel's newest Arrandale notebook platform and an all-new 2010 Intel® Core™ processor with HM55 chipset. The CR720's exterior structure is based on MSI's exclusive "wedge craftsmanship" that uses 45 degree angles to give the notebook a distinctive unified feel.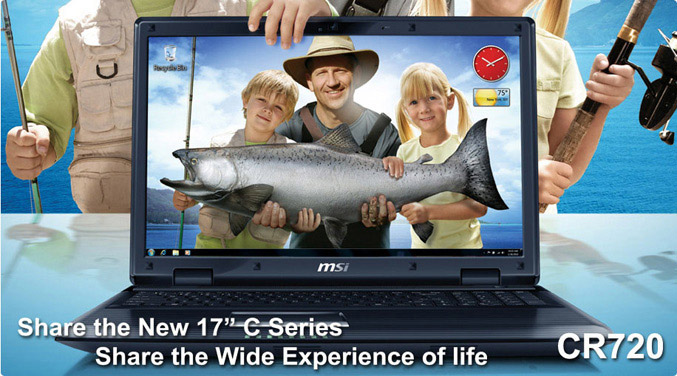 High End Audio & Video Performance
All-new 2010 Intel® Core™ Processor: The CR720 features all-new 2010 Intel® Core™ processor with HM55 chipset. Advanced technologies like Hyper-Threading Technology and an integrated graphics core result in reduced power consumption compared to previous generations and 15% longer operating time while on battery power. Also, a significant increase in graphics core effectiveness provides outstanding audio/video and processing performance. Embedded subwoofer: In addition to two speakers(2-watt), the CR720 comes with a subwoofer located on the bottom of the notebook to enhance your listening pleasure. Coupled with ideal theater-class 17.3″ display, the CR720 maximizes your cinematic experience.
Cinema-class 16:9 ratio LED backlit display: The CR720 comes with a 17.3″ LED backlit screen. It boasts an ideal cinema-class 16:9 ratio LED screen and high resolution, extending display visibility by 14%. That means wider viewing comfort with no distortion or color loss when viewing DVDs.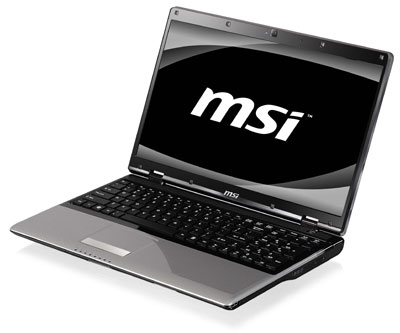 Classic Exterior: Bright & Elegant
Classic exterior styling: The Classic Series CR720's exterior design has both style and substance thanks to MSI's exclusive wedge craftsmanship, which creates perfect 45 degree angles to achieve a coherent and powerful arched profile. The CR720, with a 17.3″ display and a thickness of a mere 3.7 cm, weighs less than 3kg with a 6-cell battery!

MSI's distinctive chiclet keyboard: The CR720 comes equipped with the latest chiclet keyboard which offers that perfect touch to keep you from hitting the wrong keys. The lustrous cross-hatch color film print coating on the cover and wrist rest areas is unassuming and tasteful.
Classic seamless touch-pad: The CR720 is equipped with MSI's distinctive seamless touch-pad. This touch-pad also utilizes the full-textured cross-hatch CFP patterning for the maximum in user enjoyment.
Comprehensive Wireless Network and Transmission Interfaces
802.11 b/g/draft N Wireless: The CR720 comes with 802.11 b/g/draft N high speed wireless, with optional V2.1+EDR Bluetooth module. Additionally, a 1.3MP webcam lets you effortlessly stay in touch and instantly communicate with friends all over the world.
HDMI interface: The CR720 also features a built-in HDMI interface capable of transmitting up to 5GB of video bandwidth that provides vivid image quality. When used with a Blu-Ray player, HD images can be sent to a large sized display so you can easily enjoy brilliant audio and video through a projector or digital TV!
Source: MSI