MSI has prepared two new gaming laptops that target gamers and enthusiasts and should take the Taiwanese company to new heights in this market segment.
The novelties, known under the GE60 and GE70 brand names, will feature Intel's latest mobile 22 nm Ivy Bridge quad-core processors and the new generation of NVIDIA GeForce GT 650M discrete graphics cards. In addition the new notebooks also come with MSI's overclocking technology that will take them to where no other notebook has ever been.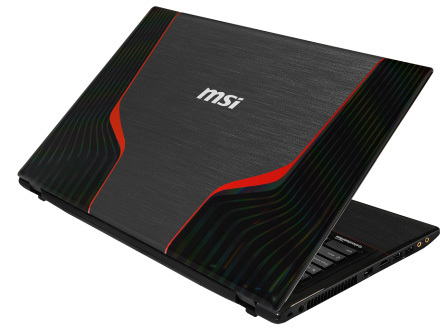 Weighing just 2.5 and 2.8 kilograms respectively the GE60 and GE70 gaming laptops come with 15.6- and 17.3-inch displays powered by both the integrated Ivy Bridge GPU and the on-board GeForce GT 650M video cards that also features 2 GB of GDDR5 memory. Storage is provided by either a 750 GB 7200 rpm hard drive or a 500 GB model also spinning at 7200 rpm. The supported memory is DDR3 and can go up to 8 GB. Gamers will also be treated by MSI Audio Boost solution that brings next-generation sound technology to an even higher level of perfection. In addition you will also enjoy a new SteelSeries keyboard where the Windows key has been repositioned to the right thus eliminating the possibility of accidentally striking it while amidst a hot battle.
Other goodies include USB 3.0 ports, HDMI 1.4, a web camera, an optical DVD drive, Wi-Fi, a card reader and Windows 7 Ultimate/Professional/Home Premium.
Source: MSI