A few days ago a new online rumor claimed that AMD would launch its new AM4 platform, designed for the upcoming Zen and Bristol Ridge processors, in March 2016. Zen is still scheduled for Q4 2016 and it makes no sense to have motherboards on the market with no processors for them so it was clear back then that along with AM4 we would get the first Bristol Ridge processors as well.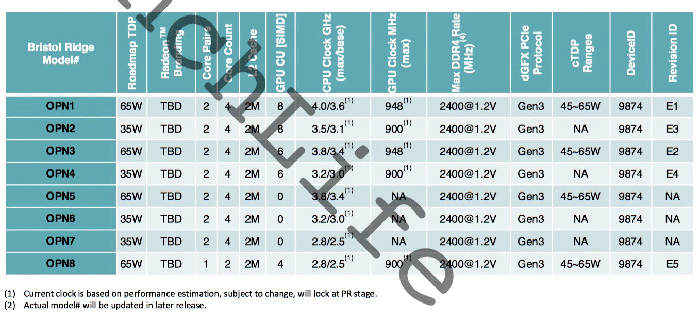 This hint has just gotten fatter since the preliminary tech specs of Bristol Ridge have surfaced online and they include details on both the desktop and mobile processors in this family. According to the available information the desktop Bristol Ridge models will support both DDR3 and DDR4 memory but instead of Zen cores, these chips will use AMD's Excavator computational cores. The desktop Bristol Ridge chips will support up to DDR4-2400 memory and will have two TDP levels – 35W and 65W. The APUs will be backed by 2 MB of L2 cache memory and will have an AMD GCN graphics core with 512 stream processors that will run at an unusually high clock speed of up to 948 MHz. The mobile Bristol Ridge chips will require the new FP4 socket and will run at lower clock speeds but they will also emit less heat. In addition to this they will support both DDR4-2133 and DDR3L-1866 memory. Furthermore all Bristol Ridge APUs will have H.265 4K hardware video acceleration.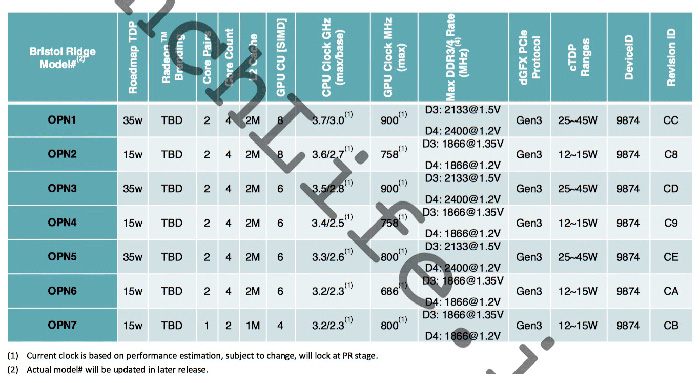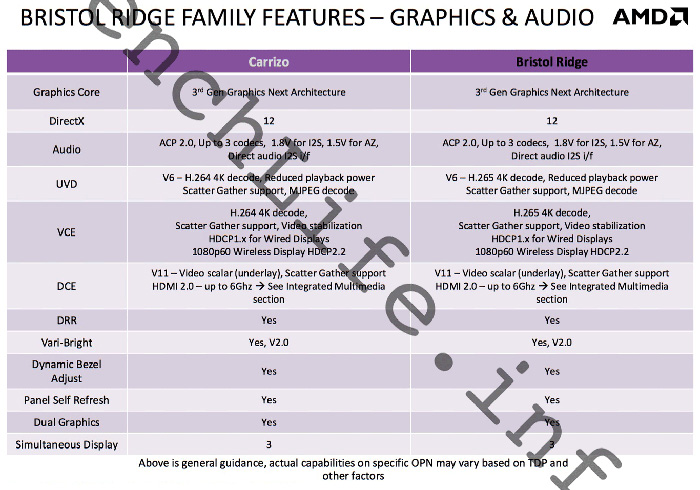 Like we said the Bristol Ridge APUs are expected in early 2016 but an official launch date has not been set just yet. We will likely get the prices of these chips on the launch day as well.
(pictures courtesy of Benchlife.info)
Source: Golem.de