At CES 2016 Gigabyte Technology has presented three new high-end motherboards designed for Intel's LGA 1151 socket and the Skylake processors that come with it. Apart from Skylake processors the boards also fully support the latest Intel Xeon E3-1200 v5 processors on the LGA 1151 socket.
The boards are called GA-X150-PLUS WS, GA-X170-Extreme ECC and GA-X150M-PLUS WS and come in the ATX and Micro-ATX form factors. They are designed for people who need tons of performance and offer advanced features galore. The X150-PLUS WS offers numerous connectivity options, an onboard PCIe Gen3 x4 M.2 connector that reaches 32 Gb/sec of bandwidth, an Intel GbE LAN port with cFosSpeed Internet Accelerator Software to eliminate lag and 2-way graphics support with a x16 PCI-E lane coming directly from the processor. The board also comes with four DDR4 DIMM slots for up to 64 GB of memory and Gigabyte Patented Dual BIOS for extra protection against BIOS failures as well as the Gigabyte App Center utility package.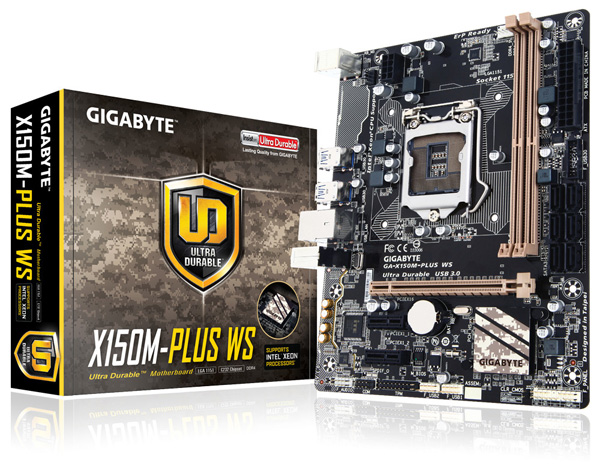 The X170-Extreme ECC is another new high-end board on the LGA 1151 socket. This one is unusual because it supports ECC memory from the start unlike most other LGA 1151 boards. The X170-Extreme ECC comes with numerous USB 3.0 and SATA 3.0 ports as well as Intel vPro technology that includes a variety of functions such as encrypted Wireless Communication, security features, remote management and more. Finally we have the budget-friendly and compact Micro-ATX X150M-PLUS WS motherboard that features a direct x16 PCI-E lane from the processor, support for DDR4 memory and various connectivity options. This board is perfect for people who want a small PC, yet the full power of the latest Intel Skylake processors.
Gigabyte has not provided pricing for these boards, however.
Source: Gigabyte Technology