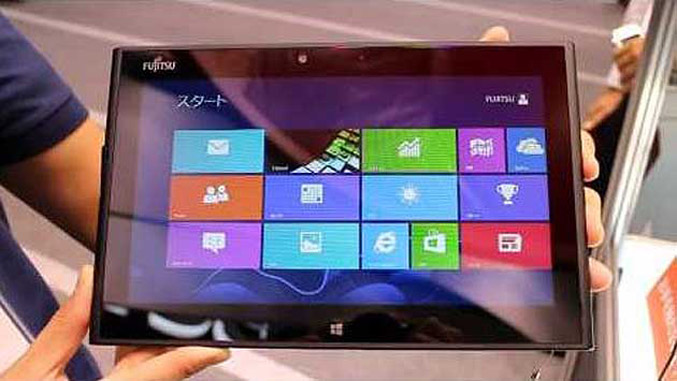 The Japanese tech company Fujitsu has teased potential customers with a demonstration of a yet unnamed Windows 8-based tablet.
The Windows 8 hype is all around with the OS launching in just three weeks so it appears Fujitsu wants some market share too. The unnamed device is still a secret so there's little information on it but we'll share what we've got so far.
The mysterious Fujitsu tablet is reported to be very, very thin at just 8.5 mm and therefore very lightweight. The device will be powered by Intel's Clover Trail chipset, which means the tablet will be able to run the full version of Windows 8, rather than just Windows RT.
Other specs include front and rear cameras, a microSD expansion slot, a microUSB port and a proprietary 10-pin charging port. The display will be 10-inch with 16:9 aspect ratio while the body is expected to be made out of aluminum or some kind of polycarbonate materials. The tablet also does not seem to have a keyboard, thus at this point it is unlikely to be a hybrid device.
The most interesting piece of information, however, is that the unidentified tablet will debut on October 19, which is a full week before the Windows 8 launch. Pricing at this time is unknown.

Source: Knowyourmobile.com