Nintendo has finally revealed the exact release dates and price for its anticipated Glasses-Free 3D handheld console. It will land in stores in Cosmo Black or Aqua Blue on March 27 in US priced at $249.99 and two days earlier on March 25 in Europe.
Nintendo also announced more than 30 games which will be available to 3DS owners. The new console has dimensions of 2.9 inches high, 5.3 inches long, 0.8 inches deep(closed), weighs approximately 8 ounces and includes two screen, a bottom touch screen (320×240 resolution ), where you can use a telescoping stylus that is stored in the device, and a top 3D screen (800×240 pixel resolution) where you can view 3D visuals without the need for special glasses. The system also has a 3D Depth Slider that lets you select the level of 3D which you prefer and enjoy most or even you can turned off completely.
In addition to the familiar + Control Pad and button controls, Nintendo 3DS now also includes a Circle Pad, which provides a full 360 degrees of direction. It also packs a built-in motion sensor and gyro sensor  that can react to the motion and tilt of the system. There're three cameras -one that  points at the user and the other two point outward and are capable to take photos in 3D which can be viewed instantly on the 3D screen. The sound comes from two stereo speakers positioned to the left and right of the top screen (supports virtual surround sound).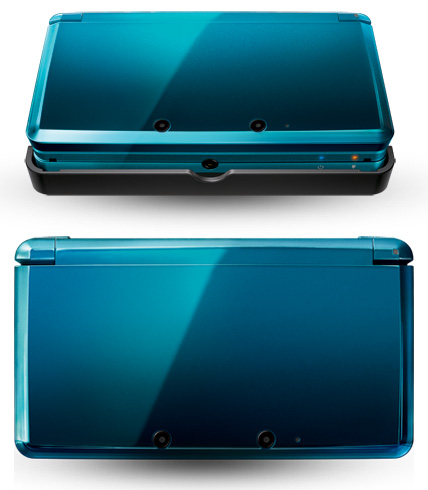 Nintendo includes two new features in the handheld-  the StreetPass that allows exchanging game information with other Nintendo 3DS systems as owners pass one another and the SpotPass feature that can connect to compatible public hotspots and through a wireless broadband Internet connection at home, even if the system is in Sleep Mode. Once connected, the Nintendo 3DS system will receive new content and updates on a regular basis.
The 3DS comes pre-loaded with a variety of games, applications and features, including Nintendo 3DS Camera, Nintendo 3DS Sound, Mii Maker, Mii Plaza, AR Games, Activity Log, Face Raiders, etc and comes with six augmented-reality cards, called AR cards. The handheld has built-in parental controls that can be used to limit Internet access or some of the wireless functions, turn off the 3D functionor limit the ratings of the games that their kids can play. Nintendo 3DS can also play Nintendo DS game cards with their original 2D visuals, has a SD memory card and comes with a 2GB SD memory card in the box.