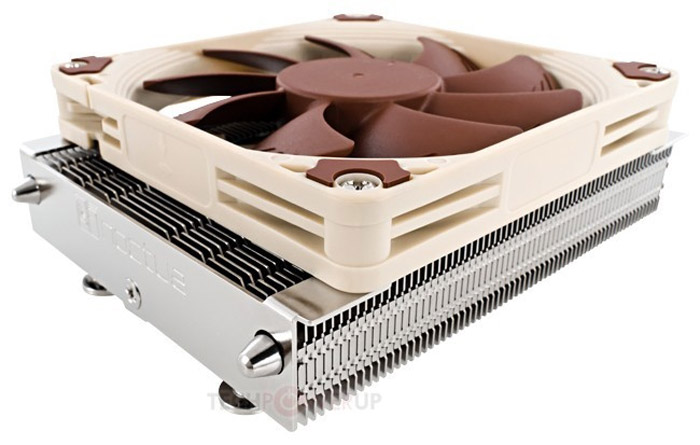 Noctua has unveiled two new CPU coolers designed for Intel and AMD platforms. The new company products boast a super low profile, which makes them suitable for extremely slim cases and small form factor PCs. The new NH-L9 coolers are also fully compatible with tall RAM modules and VGA cards on mini-ITX motherboards.
"The response on our first low profile cooler, the NH-L12, has been overwhelming", says Mag. Roland Mossig, Noctua CEO. "However, users asked for even smaller, lower height models that also provide better compatibility for extra slim, ITX based HTPCs. We're thrilled that we can now meet this demand with the new NH-L9 coolers."
The NH-L9i cooler has been specifically designed for Intel's LGA 1150/1155/1156 sockets and measures 95 x 95 mm. The AMD version – the NH-L9a model – has been designed for AMD's FM1/FM2/AM3+ sockets and measures 92 x 114 mm. Both of them are cooled by the highly optimized NF-A9x14 cooling fan, which provides efficiency combined with low noise. The fan also offers PWM for fully automatic speed control and includes a low-noise adaptor that allows the user to reduce the maximum fan speed from 2500 rpm to 1800 rpm for nearly quiet system setups.
The NH-L9 coolers bundle custom-designed SecuFirm2 mounting systems for AMD FM1/FM2/AM3+ (NH-L9a) and Intel LGA1150/1155/1156 (NH-L9i) that offer extended compatibility with mini-ITX boards and make installation easier than ever, all while maintaining the trusted SecuFirm2 quality. The premium quality bundle is completed by Noctua's much-acclaimed NT-H1 thermal compound, a well proven pro-grade TIM solution that provides minimum thermal resistance, excellent ease-of-use and outstanding reliability.
The Noctua NH-L9i and NH-L9a CPU coolers are available now for a recommended retail price of EUR 39.90.
(picture courtesy of Techpowerup)

Source: Noctua