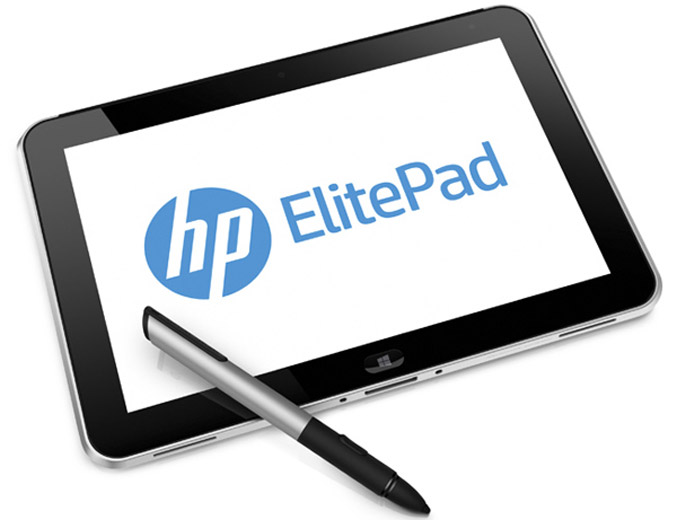 The Windows 8 market is here for grabs and HP isn't wasting its time. Although the latest Microsoft OS is three weeks away HP has announced a new Windows 8-based tablet that will be known as ElitePad 900.
The new device is based on an Intel Atom Z2760 processor (Clover Trail generation) and packs 2 GB of RAM and SSD storage of up to 64 GB. The tablet also hits the right notes when it comes to its form-factor – it features an aluminum body (MIL-spec 810G) that measures just 9.2 mm thick and weighs 1.5 pounds.
Apart from 64 GB of SSD storage the tablet also offers a 32 GB SSD device for lowering the overall cost. On the back you'll see an 8 MP camera and a 1080p-class front camera for video conferencing. On top of all this the ElitePad 900 offers 3G/4G connectivity and pen-input for all users that seek precision that mice cannot achieve.
Hardware aside, perhaps the biggest perk of the ElitePad 900 is its "Smart Jacket". In case you wonder the Smart Jacket is divided in two – the Productivity Jacket provides an integrated keyboard and SD card slot while the Expansion Jacket provides USB and HDMI connectivity along with an integrated battery for added runtime. Other accessories include a rugged case that provides "military-grade" protection and a docking station that allows an external keyboard and monitor to be connected.
There are two downsides to the ElitePad 900 though – screen resolution and sales channel. The tablet comes with the rather miserable 1280 x 800 display, which is pretty low considering what the competition has to offer. The other one – the ElitePad 900 will only be sold to business users through HP's Enterprise channel.
The ElitePad 900 will ship in January 2013.
Source: Dailytech.com