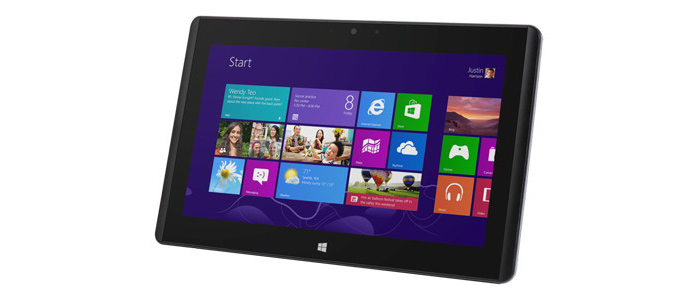 MSI has introduced a new tablet computer – the W20 3M – a device that is powered by an AMD processor. The new company product has been designed with business in mind and this is the reason why it comes with an AMD APU that provides enough power and low power consumption and Windows 8 on board.
"With its innovative construction, the W20 3M is designed with the needs of business travelers in mind. It combines the best attributes of tablets and ultralight laptops into one chic, sophisticated device. Loaded with Windows 8 and plenty of unique features, including solid-state drives up to three times faster than those in other tablets, a nine-hour battery life, 10-point multi-touch screen, and fingerprint recognition for enhanced security, the W20 M3 brings a user-friendly, interactive experience to you wherever you are in the world and puts business and entertainment functionality in the palm of your hand.", said Eric Kuo, MSI vice president for global sales and marketing.
The MSI W20 3M comes with a large 11.6-inch wide angle IPS display that works at 1366 x 768 pixels and supports 10-point multitouch. Inside the tablet packs an AMD dual-core A4-1200 APU, Radeon HD 8180M graphics, 2 GB of DDR3 memory, 802.11n Wi-Fi, Bluetooth 4.0, a 720p camera, a microSD card reader, a 64 GB/128 GB SSD and a battery that MSI says can power the device for up to 9 hours. All the hardware resides in a chassis that is just 0.99 cm thin and weighs 688 grams.
The pricing of the MSI W20 3M is unknown, though.
Source: MSI