Toshiba's Digital Products Division (DPD), a division of Toshiba America Information Systems, Inc., announced the availability of its universal dynadock™ wireless U USB docking station. Toshiba's next generation of its dynadock™ U, a top selling universal docking station on the Internet, features wireless USB technology that eliminates the need for a cable between the docking station and laptop.
"We designed the dynadock wireless U for universal appeal allowing all laptops to take advantage of its wireless features," said Michael Cassidy, director, accessory marketing, Toshiba America Information Systems, Inc. "It's a matter of convenience and consumers can connect peripheral devices quickly and conveniently through an automatic wireless connection between laptops and accessories."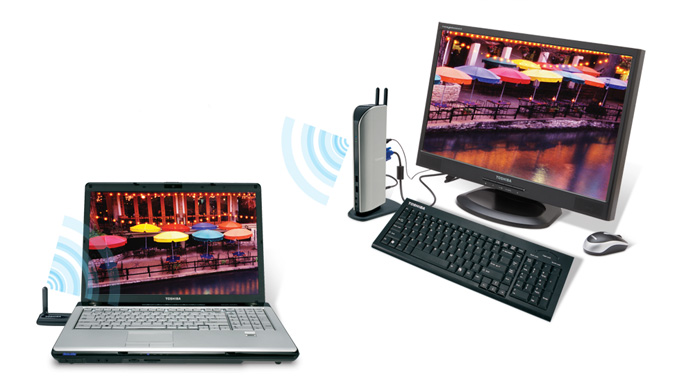 Additional key product features include:
Dynamic PC System: The dynadock wireless U acts as a conduit for add-on peripherals like external speakers, keyboard & mouse, monitor, router and other accessories to easily link with the laptop.
Automatic Connectivity: The dynadock wireless U can be set up to automatically connect to the laptop when within range.
Data Protection: One touch undock button ensures all peripherals shut down properly when undocking.
Enhanced Productivity: Six USB 2.0 ports including two front Sleep-and-Charge USB ports that supply power to cell phones, MP3 players and other devices even if your PC is off.
Multimedia: Integrated Digital Audio card adds high quality 7.1 surround sound.
High Resolution: HD Digital Video card for connecting to an extra VGA or DVI monitor with up to 1680 x 1050 resolution.
Dedicated Video Support: Dedicated wireless radio for enhanced video performance.
Bi-directional Audio Support: Bi-directional ISOCH support for Audio, webcams, microphones and USB speakers.
Easy Software Installation: Toshiba dynadock Utility software for all video and audio drivers customize the dynadock experience.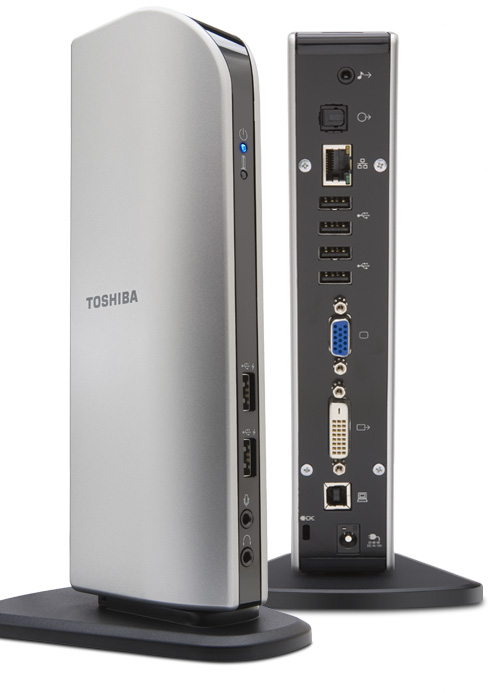 Detailed product information is available at www.dynadock.com.
Price and Availability
The dynadock wireless U will be available mid-September from a variety of major consumer electronics and computer stores nationwide or directly at www.toshibadirect.com for an estimated retail price of $299.991. The dynadock wireless U offers universal compatibility with all versions of Windows® XP, Vista® and Windows® 7. Drivers for a Windows 7 upgrade will be available on October 22, 2009 at www.dynadock.com.
Source: Businesswire