Gamers are always pushing for the ultimate realistic gaming experience, and the XFX Radeon™ HD 5800 Series graphics cards brings them three enormous steps closer to their ideal.
First, ATI Eyefinity Technology enables gamers to see things like never before, with the ability to spread out across three displays at resolutions of up to 1080 pixels. Offering the first-ever "wrap-around" in-picture experience, gamers can surround themselves in the digital world, or, if productivity is the goal, maximize workspace with the ability to see more windows simultaneously. A DisplayPort connection is required for the third panel to be visible.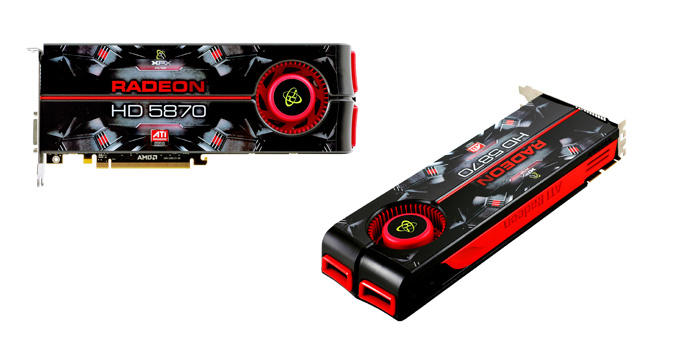 Second, ATI Stream Technology ensures that today's demanding games play faster at higher resolutions. This state-of-the-art technology boosts systems performance by offloading tasks that were previously sent to the CPU to the GPU. The result? A more evenly balanced platform that can handle greater capacities at faster speeds.
Third, the XFX Radeon HD 5870 and 5850 are the first cards to offer full support for Microsoft® DirectX® 11. Now, gamers can push their experience to the limit, going the distance with the highest resolutions at maximum settings. Striking 3D effects are there for the asking thanks to features like HDR Texture Compression, DirectCompute and Tessellation.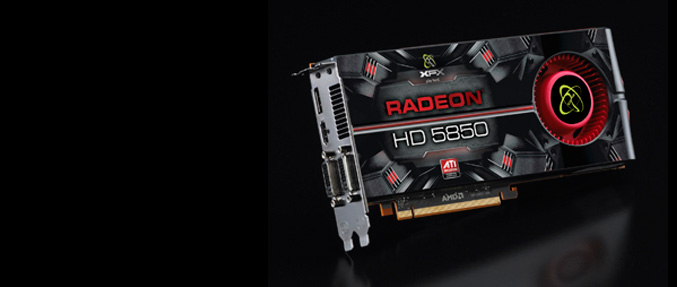 Additionally, consumers who purchase either card will have the ability to download a free copy of DiRT2, the first video game to take full advantage of all three technologies. DiRT2 downloads will be available starting December 11, 2009.
The XFX Radeon 5850 and 5870 graphics cards also feature a second generation TeraScale engine that provides a dramatic increase in processing power over previous generations. Two teraFLOPS of power enable gamers to carve through the most demanding games and GDDR5 memory technology provides twice the data per pin of GDDR3 memory at similar clock speeds, enabling these GPU's to be more nimble and responsive than previous graphics cards.
Additional features include ATI CrossFireX™ technology, which offers gamers up to 180% better gaming performance in dual-mode. ATI Avivo™ technology maximizes the Blu-ray movie experience with brighter whites for more vivid video playback. And ATI PowerPlay™ balances computing needs, keeping the power draw low when GPU activity is reduced.
As easy as 1, 2, 3, XFX has helped reality step up its game. To learn more about the XFX Radeon™ HD 5870 and 5850 graphics cards, visit www.xfxforce.com. To purchase, visit one of our favorite e-tailers today.
XFX ATI Radeon™ HD 5850 Specification: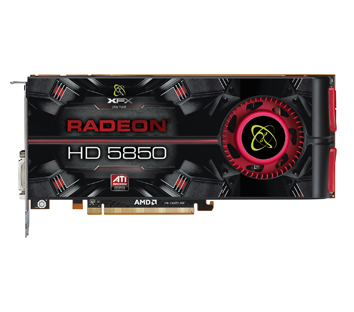 | | |
| --- | --- |
| Bus Type | PCI-E 2.0 |
| Performance | Standard |
| GPU Clock MHz | 725 MHz |
| Memory Interface Bus (bit) | 256 |
| Memory Type | DDR5 |
| Memory Size (MB) | 1024 MB |
| Memory Clock (MHz) | 4000 MHz |
| Microsoft® DirectX® Support | 11 |
| Shader Model Support | 5.0 |
| Open GL Optimization and Support | 3.2 |
| Minimum Power Requirement (Watt) | 500W with two 6-pin power cable |
| Cooling Fansink | √ |
| ROHS | √ |
| Profile | Double |
| ATI Radeon CrossFireX™ Technology | √ |
| ATI Radeon PowerPlay™ | √ |
| ATI Radeon Stream Technology | √ |
| Max Resolution Analog | 2048 x 1536 |
| Max Resolution Digital | 2560 x 1600 |
XFX ATI Radeon™ HD 5870 Specification: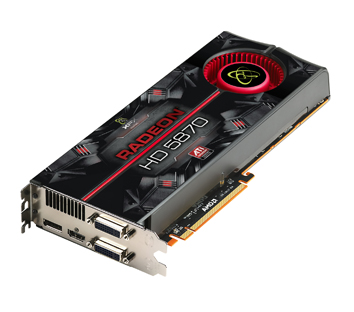 | | |
| --- | --- |
| Bus Type | PCI-E 2.0 |
| Performance | Standard |
| GPU Clock MHz | 850 MHz |
| Memory Interface Bus (bit) | 256 |
| Memory Type | DDR5 |
| Memory Size (MB) | 1024 MB |
| Memory Clock (MHz) | 4800 MHz |
| Microsoft® DirectX® Support | 11 |
| Shader Model Support | 5.0 |
| Open GL Optimization and Support | 3.2 |
| Minimum Power Requirement (Watt) | 500W with two 6-pin power cable |
| Cooling Fansink | √ |
| ROHS | √ |
| Profile | Double |
| ATI Radeon CrossFireX™ Technology | √ |
| ATI Radeon PowerPlay™ | √ |
| ATI Radeon Stream Technology | √ |
| Dimensions (Metric) | 27.9 X 11 X 3.8 |
| Max Resolution Analog | 2048 x 1536 |
| Max Resolution Digital | 2560 x 1600 |
Source: XFX