A few days ago we reported that MediaTek was working on a new SoC chip with 10 cores inside, which would be a first for the smartphone and tablet industry. The chip has now become reality – MediaTek has unveiled it during a special event.
Just like we mentioned before the new 10-core chip is called Helio X20 and it includes three core clusters. The first one includes two high-performance Cortex-A72 cores at 2.5 GHz, the second one includes four Cortex-A53 cores at 2.0 GHz, while the last one offers four Cortex-A53 cores at 1.4 GHz. According to MediaTek this SoC design is similar to an automobile gearbox and allows for effective task allocation which brings optimal performance and low power consumption at the same time.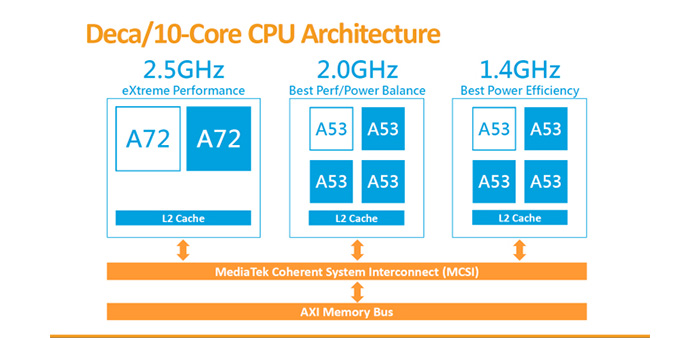 The 10 cores are not everything – the chip also comes with numerous technologies that make in even more advanced. The processor offers MediaTek's CorePilot 3.0 technology that allocates tasks in the most efficient way and according to MediaTek this leads to 30 per cent lower power consumption when compared to other dual-cluster chips, while increasing performance in everyday tasks with medium load by 12 per cent and by 15 per cent during heavy load tasks. There also are the new MediaTek Coherent System Interconnect (MSCI) bus that connects all the cores and a specialized ARM Cortex-M4 core that makes the Helio X20 an 11-core chip in reality. The ARM Cortex-M4 core is built around the ARMv7-ME architecture and serves various sensors that the Helio X20 comes with as well as certain tasks that deal with music and voice control. The inclusion of the Cortex-M4 core aims to reduce the power consumption even more.
The rest of the specs of the Helio X20 include a dual-channeled LPDDR3 memory controller, two digital signal processors that support up to 32 MP cameras, a LTE Category 6 modem, support for 3840 x 2160 video decoding at 30 FPS for the H.264, HEVC and VP9 formats, support for displays with resolution up to 2560 x 1440 pixels at 120 Hz and finally Mali-T800 graphics.
The first devices with the new chip will arrive in early 2016 and until then we will only see them as test samples.
Source: MediaTek