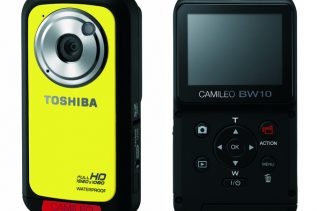 Toshiba has launched a new compact Full HD 1080p capable camcorder which is ideal for skiers, snowboarders and even can...
BenQ has launched its latest pocket-sized camcorder which is capable of capture video at 1080p and is equipped with 10x...
OnLive, Inc. announced that their cloud-based Game System is available now for pre-order for $99 and first deliveries are expected starting December 2, 2010.
3M has introduced a new pocket-sized gadget, which combining two devices in one – a HD video camera and a...
Samsung Electronics introduces a new point-and-shoot camcorder with full-HD resolution capabilities – the Samsung HMX-E10. The pocket-sized camcorder feature 270-degree...
The HTC Corporation announced that a pocket size smartphone entitled the HTC Aria, will be released exclusively on the AT&T...
Buffalo Technology launches the pocket-sized MicroStation SSD. The USB powered drive is available as 32GB or 64GB capacities and has...