At the Consumer Electronics Show, Razer™ unveiled a cutting edge of gaming peripherals including the Razer Mamba™, a high precision wireless laser gaming mouse, and the Razer Carcharias™, a circumaural audio headset.




New products reveal renewed focus on product design and proprietary technologies

This new suite of Razer products will give gamers the competitive edge and allow for enhanced game play for longer periods of time. With an emphasis on product design and a focus on proprietary Razer technologies, these latest products will help gamers amplify performance levels with faster response times, increased precision and offer unique design features.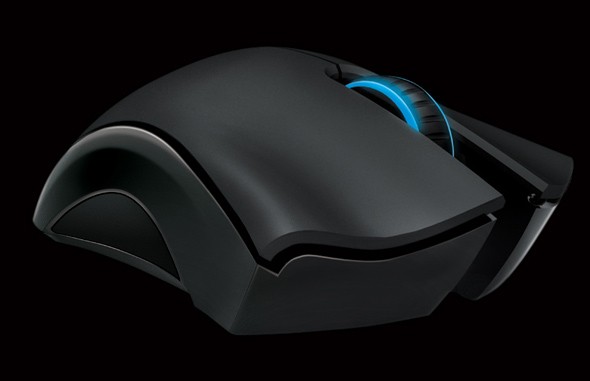 "The best entertainment experiences happen when you are fully immersed in your game, and hardware shouldn't get in the way of that," said Razer president Robert "Razerguy" Krakoff. "We've put every bit of advantage available in the hands of our gamers with the new Razer Mamba, and the Razer Carcharias. These products are for gamers who understand how minimal wireless lag time, high quality audio communications and increased precision can mean the difference between winning and losing."
PRODUCT OVERVIEW:
The Razer Mamba™

Razer has unleashed the full potential of gaming mice by designing an ergonomic, lag free gaming mouse with 2.4GHz gaming grade wireless technology, making it the fastest mouse both on and off the cord. With dual mode wired/wireless functionality, the Razer Mamba lets users immediately and seamlessly switch from wired to wireless play. With first in class polling rates at 1ms as compared to traditional wireless mice that poll at 8ms, players will have virtually lag free game play.




The Razer Mamba also includes a host of features like Razer Synapse™ on-board memory that lets gamers store and bring their mouse settings wherever they go. And the world's fastest 5600DPI Razer Precision™ 3.5G Laser sensor, the Razer Mamba wireless gaming mouse lets gamers move with lightning speed and precision to easily escape from becoming prey.

Cost: US- $129.99; Europe- €129.99
Available: Razerzone.com Feb, 2009, Worldwide Q1 2009

Features:
• Detachable seven-foot, lightweight, braided cord
• Battery life & DPI stage indicator
• Ultra-large non-slip Hyperesponse™ buttons
• Ergonomic design
• Zero-acoustic Ultraslick™ Teflon feet
Specifications:
• Gaming Grade Wireless Technology
• Dual Mode Wired/Wireless Functionality
• Razer Synapse™ On-board Memory
• 5600DPI Razer Precision™ 3.5G Laser sensor
• 1000Hz Ultrapolling™ / 1ms response rate
• Up to 200 inches per second*/ 50g acceleration
• Approximate size: 128mm x 70mm x 42.5mm
• Battery Life: 14hrs (continuous gaming); 72hrs (normal gaming usage)
*Depends on surface used




The Razer Carcharias™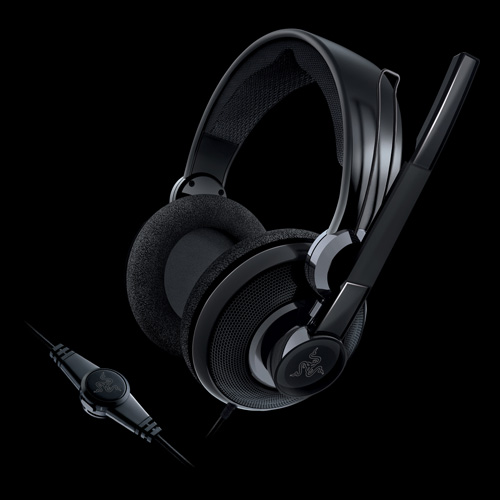 The Razer Carcharias is the essence of uncompromised comfort and audio clarity. The Razer Carcharias contain certain key features focused on comfort, like a circumaural shape to allow full over-ear coverage, interchangeable ear pads for a custom fit and a fully adjustable headband. The Razer Carcharias headset boasts superior audio clarity, deep, thumping bass and a noise filtering microphone. An inline remote lets users quickly and easily adjust volume and mute the microphone.




Cost: US- $79.99; Europe- €79.99
Available: Razerzone.com Jan, 2009, Worldwide Q1 2009

Headphone:
• Frequency Response: 20 – 20,000 Hz
• Impedance: 32 at 1kHz
• Sensitivity (@1kHz, 1V/Pa): 102 ± 4dB at 1 kHzMax.
• Input Power: 200 mW
• Drivers: 40 mm, with neodymium Magnets

Microphone:
• Frequency Response: 50 – 16,000 Hz
• Sensitivity( @1kHz, 1V/Pa): -37 ± 4dB
• Signal-to-Noise Ratio: 50 dB
• Pick-up pattern: Unidirectional
• Cable: 3 meters, Braided Fiber Sheath
• Connector: 3.5 mm jack (headphone and mic)