Toshiba has officially announced that it will launch a new series of high performance SDXC and SDHC memory cards that will carry the brand name EXCERIA. According to Toshiba the new EXCERIA memory cards will bring to market the best performance available today.
The EXCERIA moniker, in case you are wondering, is a combination of "excellent" and "experience". These memory cards will offer full compliance with the SD Memory Card Standard Ver.3.0 UHS-I and will be launched in April in Japan first.
The SD memory card has emerged as the data storage card of choice in all kinds of personal digital equipment. As the performance of digital equipment has advanced, SD memory cards offering faster data transfer speeds are necessary to support such functions as recording HD movies, continuous image shooting with digital camera and short transfer times when copying data to other devices.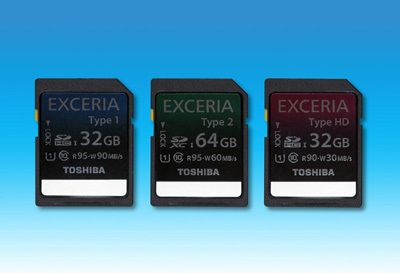 The new memory cards will come in three series – EXCERIA Type 1, Type 2 and Type HD – each offering three versions with different capacities.
The Type 1 series products integrate new controllers that realize the world-fastest class of data transfers, with a maximum read speed of 95 MB per sec and a write speed of 90 MB per sec. Type 2 series products offer a maximum read speed of 95 MB per sec and a write speed of 60 MB per sec, while Type HD products have a maximum read speed of 90 MB per sec and a write speed of 30 MB per sec.
Pricing is not known at the moment.
Source: Techpowerup