gScreen Spacebook Dual Screen notebook

The gScreen Spacebook is a dual screen laptop with two 15.4-inch identical screens and a full-size keyboard, built into one laptop unit. It is expected to be available in various screen sizes such as 13, 16 and 17-inch.
As you might be suppose the laptop will not be thin,  cause of the identically sized screen and sliding mechanism which keep them in the chassis, but Spacebook is aiming at  photographers, professional designers and people who needs dual screens to help for in their work.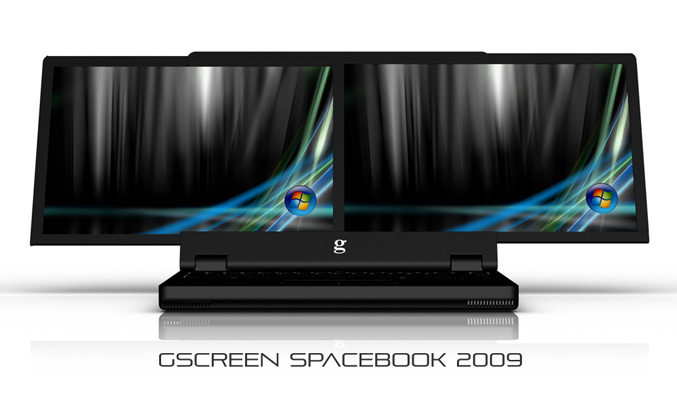 Spacebook  Specs:
2 LED backlit display screens
Windows VISTA/ WIN XP PRO (optional)
Intel Core 2 Duo P8400 2.26-GHz
4 GB of RAM (2GB DDR2 SO-DIMM x 2)
320GB 7200-rpm HD
NVIDIA® GeForce® 9800M GT with 512MB dedicated memory (or)
NVIDIA® Quadro FX 1700M Graphics with 512MB dedicated memory
9-cell battery
IEEE 1394 1 Graphics Card Output (15-pin, D-Sub) X 1, HDMI X 1 Mic-in X 1, Line-in x 1, Headphone X 1 PCI Express Card X 1 AC Power Adaptor Output: 19V DC, 90W Input: 100~240V AC, 50/60Hz universal Battery Pack Li-ion 9 cells
The date of release is still unknown, but from gScreen has said,  that it will be before the end of this year and the price is expect to be under 3000$