About a month ago MSI announced the Vortex Mini gaming PC, which back then offered really powerful computer hardware, housed in an unusual chassis that looked like a large cylinder. The company said the computer would appear in Q2 2016 but the good news now is that the Vortex may arrive a bit sooner – the device is now listed on MSI's web site as Vortex G65, a name that might change before the computer hits stores.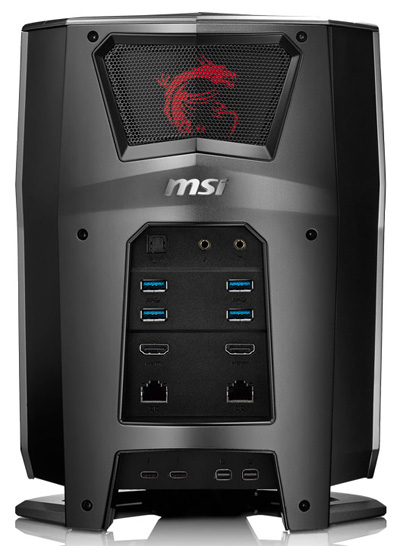 The Vortex will be a really nice machine – housed in a really cool metallic black-colored chassis that looks like a cylinder, the Vortex will offer premium hardware – the gaming computer will be based on an Intel Core i7-6700K Skylake processor and will have tons of DDR4 memory (up to 64 GB), two GeForce GTX 960/GTX 970/GTX 980 video cards (depending on the configuration chosen), M.2 SSDs in RAID and possibly a hard drive. In the back the Vortex will also have an optical S/PDIF port, audio and microphone jacks, four USB 3.0 or USB 3.1 ports, two HDMI connectors, two RJ-45 ports, a single Thunderbolt 3 connector, another single USB Type-C port and even two Mini DisplayPort connectors. As to cooling all this hardware, the Vortex will draw air at the bottom and will push it through the top, which is a really unusual solution, just like the case of the computer.
The Vortex will start at around USD 2000 and the price will go up when adding more powerful hardware to the base configuration.
Source: MSI