At the ongoing MWC Toshiba has unveiled a new yet unnamed tablet that features a 7.7-inch screen and a quad-core processor.
The novelty resembles the Toshiba AT200 tablet, which was launched last year, but that's just about it. The nameless device has been shrunk when compared to the 10-inch AT200 while at the same time it features more powerful hardware.
There's no official announcement on behalf of Toshiba just yet so many of the tech specs remain hidden, but what's known is that the new device comes with Android 4.0 and an NVIDIA Tegra 3 processor. There also are a front and a rear camera and a microSD slot but not much else is known about the hardware inside the mystery tablet.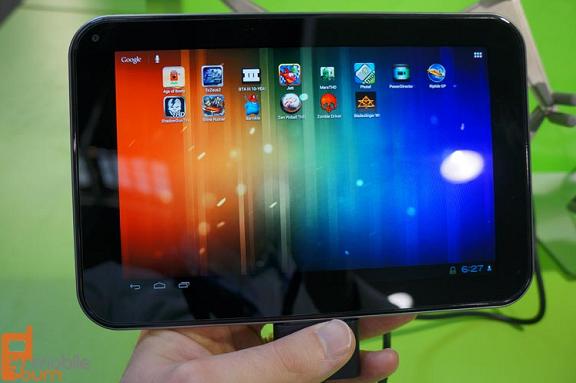 The display also catches the eye – it features the same 1280×800 resolution found in the AT200 and sports increased pixel density, which makes the display appear sharper. Initial impressions of the hardware at the MWC confirm a very bright, colorful display and this hints of an AMOLED component.
An official announcement should come shortly from Toshiba maybe even at the MWC which lasts until March 1, 2012.

Source: Pocketnow