Verizon Wireless and Motorola announced today that the Motorola DROID 2 will be released for pre-sale on the 11th of August, 2010. Motorola's DROID 2 will include features like QWERTY keyboard, ultra high-speed internet browsing, 3G Mobile HotSpot Capabilities, full push corporate e-mail, social messaging and the Adobe Flash Player 10.1 for full internet experience on the Android 2.2.
"When we announced DROID X last month, we reaffirmed our commitment to continue to bring unique Android experiences to the Verizon Wireless network," said Jeffrey Dietel, vice president – wireless device, marketing and development for Verizon Wireless. "The DROID by Motorola was our first Android device, so it is important for us to include the successor to that phone in our portfolio. DROID 2 is not only a continuation of our commitment to Android but offers customers the features and form-factor they crave on the Verizon Wireless network."
"With the new DROID 2, we've taken a big leap forward from the original DROID," said Bill Ogle, chief marketing officer of Motorola Mobile Devices and Home Business. "We listened to consumers and are providing an even more robust experience built on Android 2.2 that includes a new keyboard, increased processing power, Adobe Flash Player 10.1 and 3G Mobile HotSpot capabilities to send, access and share information even quicker than before."
"It's great to see amazing new smart phones like the DROID 2 come pre-installed with Flash Player 10.1," said David Wadhwani, senior vice president and general manager, Creative and Interactive Solution Business Unit at Adobe. "With the completely redesigned and hardware accelerated Flash Player 10.1, DROID 2 users will be able to experience the full Web on the go."
Motorola's DROID 2 has a unique super-slim design, thanks to which it provides easy to use e-mail, text messaging and tweeting. The raised keys on the keyboard provide more comfortable and responsive typing. Quick messaging features like speech-to-text and virtual multi-touch keyboard are also featured in the new Motorola DROID 2, combining power and speed together.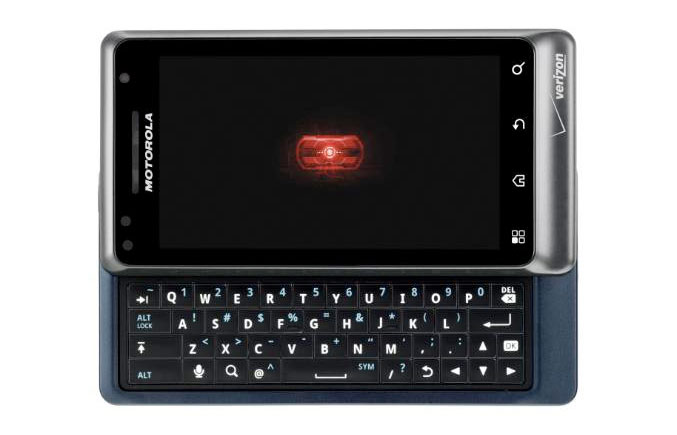 DROID 2 by Motorola has the ability to hook up to maximum five compatible Wi-Fi devices. The 3.7-inch multi-touch screen display is perfect for watching, browsing, or even sharing content recorded with the five megapixel camera, which features enhanced functionality and DVD-quality video capture.
The Android 2.2 Operating System also offers access to the Android Market, which stores more than 70,000 applications. Consumers will be able to download their favorite applications and install them on the preloaded on-board memory with the capacity of 8GB, and also on the 8GB MicroSD Flash Card, which is expandable to 32GB for a total of 40GB Storage Capacity.
Motorla's DROID 2 also comes equipped with the Adobe Flash Player 10.1, thanks to which users will be able to fully experience millions of websites on the internet, they way they were designed.
Verizon Wireless will also offer a limited edition R2-D2 version of the Motorla DROID 2 which will be available for online purchase in September, 2010, courtesy of the Astromech Droid from the Star Wars Saga.
Motorola DROID 2 will be released on the 11th of August, 2010, for the price of $199.99 after a $100 mail-in rebate with a new two-year customer agreement. Check verizonwireless.com for more information.
Source: Motorola