There's all sorts of mice out there today, and you'll find that none of them are created equal, they all have pros and cons, and it's really going to take a bit to find the one that's right for you.
Published 13/11 – 2008
Published in Mice, Product Reviews
Author: Kristofer Brozio
Manufacturer: Razer
Product name: Razer Lachesis
Manufacturer ID / UPC: RZ01-00170100-R3M
Razer is a company that is well known for their top-quality gaming accessories, many people rave about them and covet their Razer products. If you're a gamer, then most likely you've heard of Razer and probably own one of their products.
Today for review I've got the Razer Lachesis gaming mouse, it features a 4000dpi laser sensor, 32kb onboard memory to save profiles, nine buttons, one the fly sensitivity adjustments and many other features that make this an excellent choice for a gaming mouse.
First up, as usual, we've got the unboxing video for you, so check it out and continue on:
Razer Lachesis gaming mouse
Specs:
Price: $ 79.99
*  4000dpi Razer Precision 3G Laser sensor
* 32KB Razer Synapse onboard memory
* Nine independently programmable Hyperesponse button
* 1000Hz Ultrapolling / 1ms response time
* On-The-Fly Sensitivity adjustment
* Variable true dpi setting adjustments in increments of 125dpi
* Always-On mode
* Ultra-large non-slip buttons
* 16-bit ultra-wide data path
* 60-100 inches per second
* Ambidextrous design
* Scroll wheel with 24 individual click positions
* Zero-acoustic Ultraslick Teflon feet
* Gold-plated USB connector
* Seven-foot, lightweight, non-tangle cord
* Approximate size: 129mm (length) x 71mm (width) x 40mm (height)
Windows 2000 / XP / X64 / MCE 2005 / Vista / Vista64
Available USB port
CD-ROM Drive (for drivers)
At least 35MB of hard disk space (for drivers)

Here's size comparison with the Lachesis next to the NZXT Avatar and SteelSeries Ikari Optical: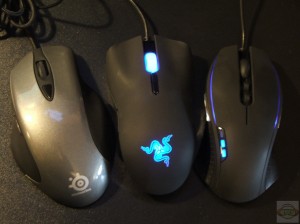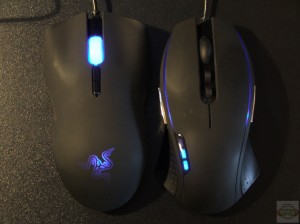 You can use the Razer Lachesis without the software, but it's highly suggested that you don't as with the software you can fully configure everything to your own personal likings, there are many options to choose from and you can store them in separate profiles as well.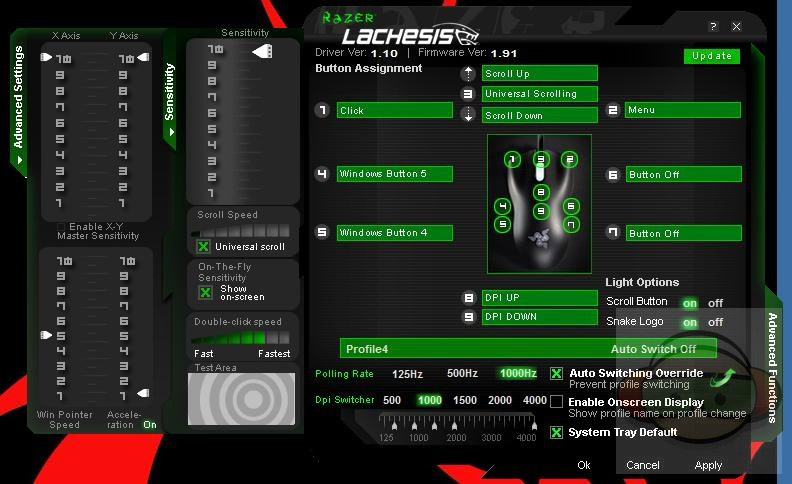 I used the Lachesis with plastic, glass and cloth mousepads and had no problems with tracking on any of the surfaces, the plastic pad is a SteelSeries S&S and the Lachesis slid across it like it was on ice, I was amazed the first time I tried it out. The teflon pads on the Lachesis truly are silent as well, the S&S has a fine rough surface to it and I couldn't hear the Lachesis at all sliding across it.
The Lachesis is a rather large mouse, especially compared to the small NZXT Avatar that I've been using, and it's not so much the size but the height of it really that bothers me, it just feels to high in the back to me, but that's my personal preference.
I gave the Lachesis a go for two weeks, and the verdict is that it's a great mouse, but just not for me, I'll be going back to the Avatar. It's just the size of the Lachesis that doesn't work for me, I just don't care for a mouse that fills you hand what seems almost too much.
I did update the firmware and get the new drivers, but I found that at times the Lachesis can bit a bit jittery, and honestly it's rather annoying when it doesn't do what I want it to do. Those times are only when I'm using the mouse for my everyday things though, in gaming I didn't notice it at all, so it does make a great gaming mouse, just, depending what you do, not that great of an office mouse. Sure it can be an excellent dedicated gaming mouse, but I personally use the same mouse for everything, and that's what I like, I'm also not a hardcore gamer either.
I played Fallout 3, FarCry2, C&C Red Alert3, and Dead Space with the Lachesis and as I mentioned it is an excellent gaming mouse, it worked perfectly for any type of gaming.
I like the ability to change the DPI on the fly, it comes in quite handy, actually all of the options come in very handy, you can easily program several profile for different games.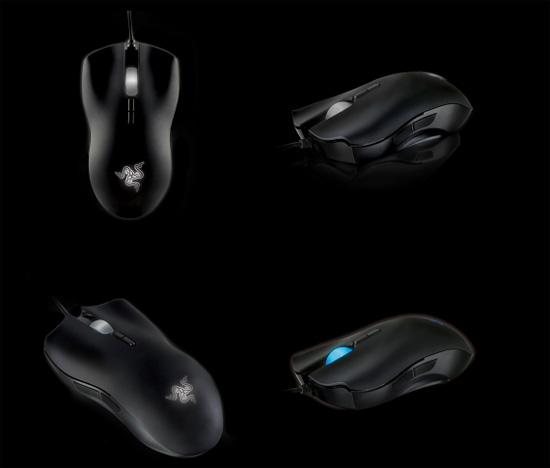 Conclusion:
The Razer Lachesis is an excellent gaming mouse that I believe any hardcore would just love, it's got tons of features and the ability to save several profiles for different games is something that any gamer will appreciate.
The Lachesis though is just that, a gaming mouse, and it seems not to be the greatest everyday mouse, I personally prefer a mouse that I can use for everything I do, and to me it seems the Lachesis is a bit jittery when using it for slow motions like copy and paste etc.
Pros:
Very sensitive
Lots of adjustments
Very slick feet
Works equally well on all surfaces
Easy to use
Cons:
Oddly shaped
A bit jittery at times
| | |
| --- | --- |
| Grades: | |
| Overall | |
| Design | |
| Performance | |
Source : Test Freaks