Silicon Image™, Inc., a leader in semiconductors and intellectual property for the secure distribution, presentation and storage of high-definition (HD) content, today introduced the SiI6100 HD display processor, the world's first device supporting the newly introduced Silicon Image LiquidHD™ technology.  LiquidHD is the new personal entertainment technology designed to quickly and easily connect TVs, consumer electronics (CE) devices, personal computers (PCs), portable media devices (PMDs) and home theaters into a seamless network where consumers can enjoy digital content from any source device on any LiquidHD-enabled display in the home.
High-Performance System-On-A-Chip Changes The Dynamics Of The Multi-Room Video Services Market

A silicon implementation of the LiquidHD specification, the SiI6100 display processor allows CE manufacturers and multiple service operators (MSOs) to reduce the time-to-market for their next-generation networked equipment.  In addition, the SiI6100 reduces the cost of deployment of multi-room services while offering secure, high-quality video and a pixel-accurate remote user interface on a consumer electronics network.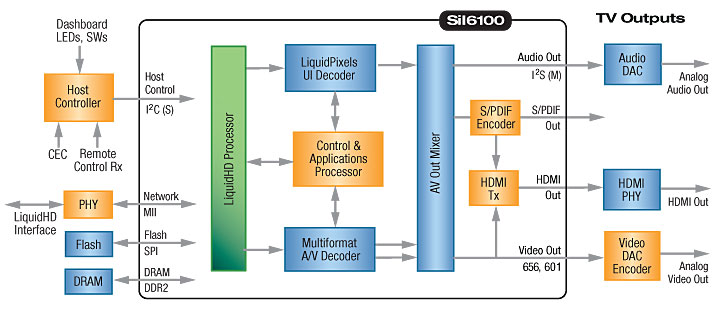 The SiI6100 is a highly integrated system-on-chip (SoC) that incorporates a multi-standard high-definition and standard-definition video decoder for H.264, MPEG-2 and VC-1 formats.  In addition, the SiI6100 features a multi-format audio decoder for Dolby Digital, MPEG-1 Layer 2, MPEG-1 Layer 3 (MP3), MPEG-2 AAC stereo, and DTS 5.1 formats.  The LiquidHD protocols are built into the SoC, enabling manufacturers to create low-cost micro clients and to develop LiquidHD-native TVs.  With LiquidHD-enabled micro clients and LiquidHD-native TVs, cable, satellite and internet protocol television (IPTV) service operators can quickly deploy multi-room digital video recorders (DVR) and video-on-demand (VOD) services at significantly reduced capital expenditure (CAPEX) and operating expenditures (OPEX).  In addition, service operators will be able to provide their content securely to LiquidHD-enabled mobile phones, PCs and laptops.
"As the number of TVs per household grows, world-wide service operators are actively looking for cost effective ways to introduce multi-room, multi-screen HD video solutions to a larger customer base," said Payam Kermani, senior product marketing manager at Silicon Image, Inc.  "The SiI6100 HD display processor is a key component in extending popular services like HD DVR programming to multiple locations in the house, creating the potential of increased average revenue per user for cable, satellite and IPTV service operators."
Supporting the SiI6100 is a comprehensive LiquidHD developer's kit, the ideal tool for implementing the LiquidHD technology in residential gateways, master set-top boxes, Blu-ray Disc™ players and digital video recorders (DVR).  LiquidHD-enabled TVs and micro clients will be able to automatically discover source devices using LiquidDiscover technology. Source devices in turn will be able to remote their user interfaces over the network using LiquidPixels technology, and provide high quality HD streams using LiquidMedia streaming technology.  The developer's kit supports the most popular set-top box and Blu-ray Disc processors in the consumer electronics market as well as major middleware software for cable, satellite and IPTV and Blu-ray Disc players.
The SiI6100 display processor will be sampling in the second quarter of 2009 along with the LiquidHD developer's kit.  For more information on the SiI6100 LiquidHD display processor please visit www.siliconimage.com.
About LiquidHD
LiquidHD is a foundational technology that extends the benefits of the HDMI technology, of which Silicon Image was a key inventor, to offer high-definition video, audio, remote user interface and control over commodity internet protocol (IP) networking gear.  LiquidHD technology is designed to create a seamless consumer electronics network that allows users to access and transfer content to and from any device in the home.  LiquidHD-enabled consumer electronics devices can stream high-definition audio/video content through a simple, secure and low cost single connection, creating a whole new personal entertainment experience.  Silicon Image plans to partner with industry leading service operators and consumer electronics companies to form an industry consortium that supports and fosters the LiquidHD technology standard for broad market adoption.  For more information, please visit www.liquidhd.com.
About Silicon Image, Inc.
Silicon Image, Inc. is a leading provider of semiconductor and intellectual property products for the secure distribution, presentation and storage of high-definition content.  With a rich history of technology innovation that includes creating industry standards such as DVI and HDMI, the company's solutions facilitate the use of digital content amongst consumer electronics, personal computer (PC) and storage devices, with the goal to securely deliver digital content anytime, anywhere and on any device.  Founded in 1995, the company is headquartered in Sunnyvale, California, with regional engineering and sales offices in China, Germany, Japan, Korea, Taiwan and the United Kingdom.
For more information, please visit www.siliconimage.com.