The eMachines® eMD620-5777 notebook PC debuts today, giving consumers all the essentials of mobile computing at the incredibly affordable price of only $429.99.
The new notebook PC combines the latest in popular and useful features with trusted technology, making it ideal for challenging coursework, multimedia school projects, home productivity, research and staying in touch.
"The new eMachines notebook is a great way for customers to get everything they need in a notebook at a really exceptional price – something that's welcome in today's challenging financial climate," said Ray Sawall, senior product manager for Acer. "The new eMachines eMD620-5777 notebook is ideal for students, families, small business professionals and anyone on a budget who wants to enjoy the benefits of mobile computing. Plus, the new eMachines eMD620-5777 notebook gives families an affordable way to get an additional PC in their home, without having to set aside a dedicated space for it."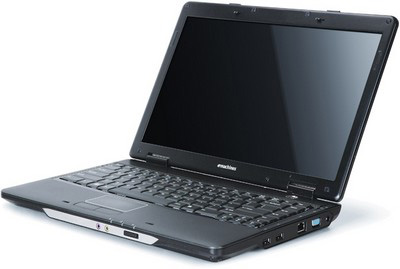 With a fast AMD Athlon™ 2650e processor (1.6GHz, 512KB L2 cache, 800MHz FSB) and a full 1GB of DDR2 memory, the eMachines eMD620-5777 is ready to perform on the go. It also features integrated ATI Radeon X1200 graphics, with up to 1919MB of ATI's HyperMemory, so video and graphics look great.
The notebook's size is designed with portability in mind. Its 14.1-inch widescreen display with 1280×800 resolution is perfect for watching DVD movies and viewing multiple applications at once, yet the chassis is still compact enough to comfortably carry in a backpack or book bag. Also, staying in touch on the go is a snap with the notebook's 802.11b/g WiFi that connects to hot spots and wireless networks on campus, at home and at many popular restaurants and hotels.
After projects for home and school are complete, students and their families can enjoy digital media hobbies, entertainment and games. The Super Multi-format Dual-layer DVD-R/RW drive plays DVD movies and can burn music, video, photos and other content to DVDs or CDs using the preinstalled Corel WinDVD and NTI CD/DVD Maker software. Consumers can store and share their digital media with the notebook's large 160GB(1) hard drive.
Listening to music and other audio is enjoyable with the notebook's two built-in high-definition stereo speakers, headphone/speaker jack and microphone jack. Plus, two USB 2.0 ports make it easy to connect popular peripherals and digital media devices, such as MP3 players, cameras and camcorders.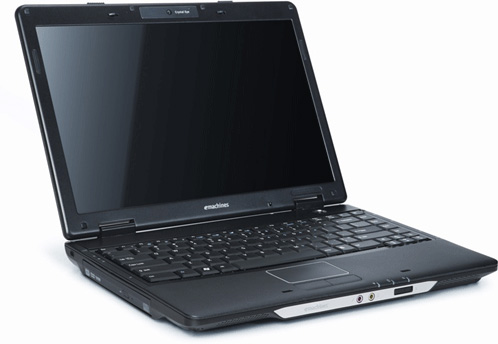 Useful software abounds on the eMachines eMD620-5777 notebook. It includes Windows Vista Home Basic for fast handling of applications. The notebook also comes preinstalled with eMachines GameZone, a sampling of popular online games, as well as Adobe Reader for reading PDFs, and Microsoft Works 8.5 with Office Home and Student 2007 Trial for productivity. To keep customers safe, the notebook also comes with a 60-day trial of Norton 360 Version 2.0.
Pricing, Availability and Warranty
The eMachines eMD620-5777 will be sold by Best Buy beginning Nov. 1, 2008 at a manufacturer's suggested retail price of $429.99.
The company's extensive online support center helps customers maximize their PC investment; it gives them easy access to customer support representatives and information on important issues such as warranties, technical issues and upgrading. The eMachines line of PCs comes with a standard one-year limited warranty(2). For more information on eMachines products, customers can visit www.emachines.com.
About eMachines
eMachines, a leading retail PC brand, is part of the Acer family of technology products. See www.emachines.com for more information.
All offers subject to change without notice or obligation and may not be available at all retail locations. Prices listed are manufacturer suggested retail prices and may vary by retail location. Applicable taxes extra. Sales subject to Limited Warranty and Terms & Conditions agreement. Gateway cannot be responsible for pricing or other typographical errors. Other product or service names mentioned herein are the trademarks of their respective owners.