Better late than never — and HP has made a good little netbook at a reasonable price.
Reviewed on: 30 October 2008
It may seem as if Hewlett-Packard is arriving somewhat late to the netbook game with its Mini 1000, but the company's business division has been offering a similar system, the 2133 Mini-Note, since the spring of this year. That model scored points with the best netbook keyboard we've seen and a solid metal construction — but the wimpy VIA processor (and a higher price than other netbooks) kept it from being a top contender. The Mini 1000 will be available in the UK in mid-February 2009 for approximately £400.
Design
This new consumer version has a nearly identical design, but in lightweight plastic and with a slightly thinner body. The large, comfortable keyboard remains — and is the Mini 1000's best feature — while the CPU has been upgraded from the Via C7-M to the Intel Atom. Our review model featured a 60GB (spinning) hard drive — this will be sold in the UK with a Vivienne Tam designer livery, pictured above. Models with 8GB or 16GB solid-state drives will be available for the same price, but with a more staid black chassis.

We're dubious of HP's bizarrely proprietary 'HP Mini Mobile Drive' slot, which is basically a recessed USB port into which only specially branded HP USB drives can fit. We'd happily trade this slot for a media card reader or ExpressCard slot. Without it, we might have been able to get separate headphone and mic jacks — as it is, you get only one shared audio connection. Still, the actual hands-on experience is the best of any netbook we've tested so far, making it well worth a look for anyone interested in jumping into the netbook arena, especially those who dread spending time typing on cramped keyboards.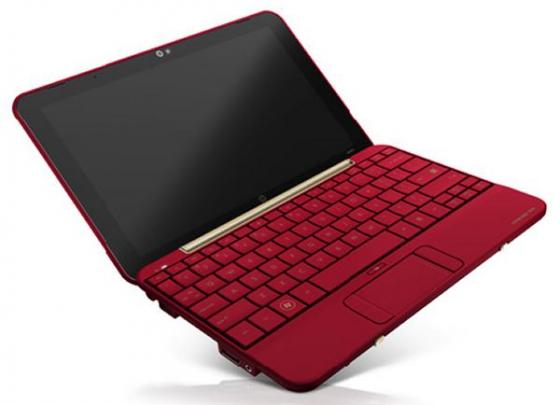 The Mini 1000's footprint is nearly identical to that of the earlier HP 2133 Mini-Note PC, measuring slightly wider and thinner. It's also a little lighter, thanks to the switch from aluminium to plastic. Netbooks are designed with price and portability in mind, so they're usually not the fanciest designs to come out of a PC-maker's lab. While an aluminium chassis is generally preferred to one made from plastic, the switch to plastic here makes sense because every penny and gram counts. Overall, we appreciate the Mini 1000's efficient and attractive layout — there's hardly any dead space on the keyboard tray.
Features
The biggest selling point for the Mini 1000 is its fantastic keyboard, which HP claims is 92 per cent of the size of a full-size laptop keyboard. Other Netbooks have been plagued by tiny Chiclet-like keys, which make typing a pain and typos plentiful. By expanding the keyboard right to the edges of the system, HP was able to fit bigger keys into the tray than other netbooks and even ultraportable laptops. The result is a comfortable typing experience that beats even Dell's Inspiron Mini 9.
The 10.2-inch widescreen LCD display offers a 1,024×600-pixel native resolution, which is standard for netbooks. It's certainly readable, but most documents and Web pages will require some scrolling. The display is covered by the same edge-to-edge glass that we saw in Apple's new MacBooks, which adds to the aesthetic, but is also a glare magnet.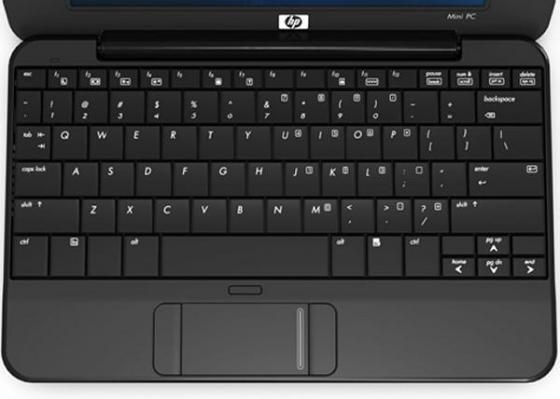 The Mini 1000 has fewer ports and connections than many other netbooks, but the two USB ports should be enough for most users. The Dell Inspiron Mini 9, in comparison, has three USB ports, plus separate headphone and mic jacks, while the HP has only a single switchable audio jack. We wouldn't mind so much, but HP felt the need to include a proprietary recessed USB jack for use with the company's HP Mini Mobile Drive — basically an elongated USB memory stick. We'd rather the chassis space and hardware costs go into another USB port, video output or even a separate mic jack.
Performance
Intel's single-core 1.6GHz Atom CPU offers enough computing power for the basic tasks for which netbooks are designed — namely Web surfing, working on documents and some basic multimedia playback. That combo of Intel's Atom CPU, 1GB of RAM, and Windows XP (a Linux version of the Mini 1000 will be released in early 2009) is found in almost every current netbook, so it's not surprising that we saw no real performance difference between the Mini 1000 and the Dell Inspiron Mini 9 or Lenovo IdeaPad S10. Any of these are fine for basic on-the-go computing, as long as you keep your expectations modest.
We were concerned about the system's battery life, since it only has a three-cell battery. Other three-cell netbooks, including the Lenovo Ideapad S10, ran for only about 2 hours on our video playback battery drain test. But we were pleased to get 2 hours and 44 minutes from the Mini 1000, which should be closer to our three-hour recommendation in casual use.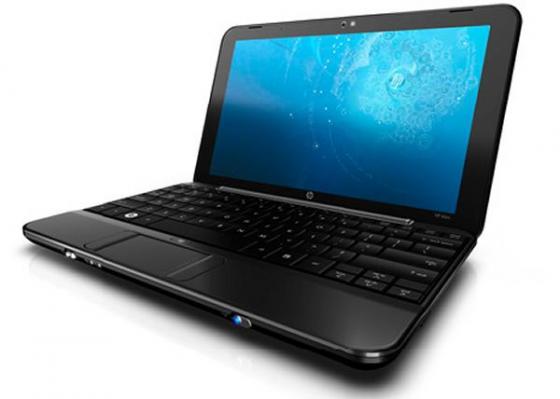 HP Mini 1000 Full Specification

Processor
Clock speed – 1.6Ghz
Processor type – Atom N270
Processor manufacturer – Intel
Ram
Ram Installed 512
Motherboard
Chipset type – Mobile Intel 945GM Express
Storage Hard Drive
Hard drive size – 60GB
Video Output
Graphic processor – Intel GMA 950 (integrated)

Dimensions / Weight
Dimensions (WxHxD) – 168x24x2.2mm
Weight -1.1kg
Available colours Other
Battery
Estimated battery life (mfr) 3 hours
Miscellaneous
Operating system Windows XP Home Edition SP2
Conclusion
HP may have arrived late to the consumer netbook game, but by lifting the generous keyboard from last year's business-oriented model, the Mini 1000 easily joins the category's top tier. And with such good value at just £400, this netbook is definitely worth a look.

Edited by Marian Smith

Source: CNET.co.uk