NVIDIA Corporation, in conjunction with the world's leading content developers, display manufacturers, and PC OEMs and system builders, is pleased to announce NVIDIA® 3D Vision™ for GeForce®, the world's first high-definition 3D stereo solution for the home.
NVIDIA 3D Vision for GeForce Brings New Dimension to Photos, Videos and Games

Forming the foundation for a new consumer 3D stereo ecosystem for gaming and home entertainment PCs, 3D Vision is a combination of high-tech wireless glasses, a high-power IR emitter and advanced software that automatically transforms hundreds of PC games into full stereoscopic 3D experiences. Designed to work with the new pure Samsung® and ViewSonic® 120 Hz LCD monitors, Mitsubishi® DLP® HDTVs, and the DepthQ HD 3D Projector by Lightspeed Design, Inc, 3D Vision unlocks crystal-clear, flicker-free 3D stereo imagery perfect for driving new experiences in 3D gaming, 3D movies, and 3D photography.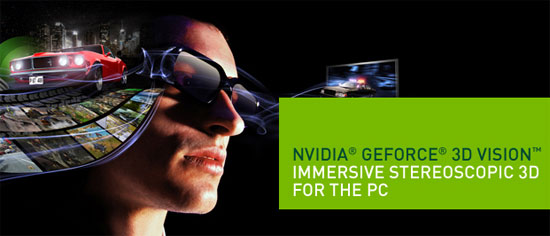 "Along with gaming innovations in Microsoft Windows and DirectX, NVIDIA 3D Vision proves there's never been a better time to be a PC gamer," said Corey Rosemond, group marketing manager, Windows Gaming. "By including support for previously released and upcoming Games for Windows and Games for Windows — LIVE titles, PC gamers can expect a new level of immersion in full stereoscopic 3D, and enjoy broad support for the hottest games."
Powered by NVIDIA GeForce GPUs, the number one choice of gamers worldwide, 3D Vision is the world's highest quality stereoscopic 3D consumer solution, consisting of:
High-Tech, Wireless Active Shutter Glasses

Designed with top-of-the-line optics to deliver 2X the resolution per eye and ultra-wide viewing angles versus passive glasses. Comfortable to wear and modeled after modern sunglasses, offering a stylish and lightweight alternative to traditional 3D glasses. Fully untethered solution, offering free range of motion and up to 20 feet of wireless 3D viewing.

USB-based, High Power IR Emitter

Transmits data directly to active shutter glasses within a 20 foot radius and contains an easy to use real-time 3D adjustment dial.

Maximum Display Flexibility

Designed for pure ViewSonic and Samsung 120 Hz LCD monitors, Mitsubishi DLP 1080p HDTVs, and DepthQ HD 3D projectors, unlocking crystal-clear, flicker-free stereoscopic 3D gaming for multiple viewing solutions.

Out of the Box Game Compatibility

Advanced NVIDIA software automatically converts over 300 games to work in 3D stereo out of the box, without the need for special game patches. In addition, NVIDIA's "The Way It's Meant to Be Played" program ensures that future games will support 3D Vision. 3D Vision is also the only stereoscopic 3D gaming solution to fully support NVIDIA SLI®, NVIDIA PhysX™, and Microsoft® DirectX® 10 technologies.

Extended Usability On a Single Charge

A single charge using a standard USB cable enables over 40 hours of continuous 3D stereoscopic gaming. Intelligent circuit design built into the glasses automatically shuts the glasses off after 10 minutes of inactivity to preserve battery life.




Support for 3D Stereo Photography and Movies

Includes a free 3D Vision viewer which allows consumers to take in-game screenshots and view them in 3D stereo, or import and view stereoscopic pictures and movies from a variety of different capture sources and online web photo galleries.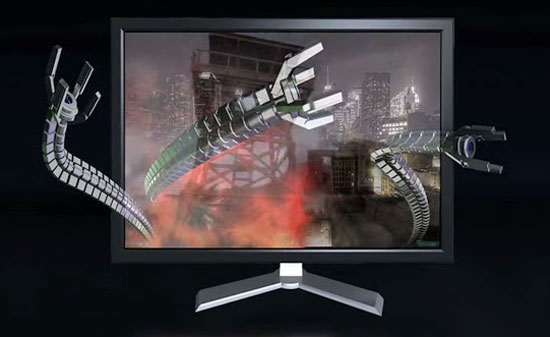 "For gamers, 3D Vision for GeForce represents a whole different way of experiencing the game, and for developers, it unlocks the potential of making the game literally pop off the screen," said Ujesh Desai, vice president of GeForce desktop business at NVIDIA. "From games to movies to photography, 3D Vision delivers a truly immersive awesome 3D experience."
3D Vision for GeForce is available starting today from leading U.S. e-tailers including www.compusa.com, www.tigerdirect.com, www.microcenter.com; as well as direct from www.nvidia.com for a suggested MSRP of $199 USD. Worldwide availability will be announced later, in the first quarter.
Source: Nvidia