MSI, one of world's leading manufacturers of system, notebook, motherboard and graphics card products, launched its Wind NetTop which was widely praised by all sectors. It has now gained popularity among small-cheap and multi-functional computer products. A follow up on its victory, MSI leads the industry to unveil the first "Dual-Core" mini system, Wind NetTop D130.
Wind NetTop D130 is equipped with the latest Intel® Atom™ 330 dual-core processor and 2GB DDR2 memory. Both high-definition video of HD-class home theater and other high-load applications, Wind NetTop D130 is easy to handle. Based on the origin of Wind series, Wind NetTop D130 using the same "ultra energy-saving" power design can save nearly up to 90% on electricity. Users no longer worry about overdraft electricity, even when the users use the computer for over a 24-hour period. MSI has broken the myth that high-performance is equivalent to high power consumption.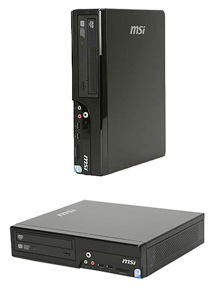 Nordic Simple Style
With today's modern lifestyle, people are paying attention to trendy home furnishing and texture. Apart from high-performance and multi-functional, people are also expecting the computer to be stylish and trendy as well. MSI Wind NetTop D130 comes with an excellent appearance design to meet the request of the modern aesthetic. The material used in the body is a deep matte black metal with the same metal material for the reflective button. The cold color lets Wind NetTop D130 exudes a full, simple Nordic style. Users can place it on the coffee table, desk or any corner at home. The design displays a reserved personality to show calmness and a sense of individuality.
Energy-Saving and Ultra-Quiet
Wind NetTop D130 is equipped with Intel® Atom™ dual-core processor and 2GB DDR2 memory which provides a more powerful processing performance at the same price. The full speed operation of Wind NetTop D130 is only 35W which is less than the light bulbs. Compared to the traditional ATX chassis of 250W~300W, MSI Wind NetTop D130 can save up to 90% on electricity. That's about NT$4,900* per year. In an era of high electricity tariffs, a high-performance and power-saving computer is the most intelligent choice.
The processor and the chipset of MSI Wind NetTop D130 utilized the passive cooling technology, preventing the noisy operation of the fan. It is ultra-quiet, generating only 30dB of operating noise which is quieter than the library. It is very suitable for 24H computing needs such as e-mail servers, file servers. Users can also use it to play online games, or place it in the living room to connect TV set as a family multimedia center.
Built-in DVD Super Multi
The compact size of MSI Wind NetTop D130 features a built-in Super-Multi DVD burner, which is used for backing up data, installing software or playing movies. The MSI Wind NetTop D130 is designed to meet users who don't want to have external DVD-ROM drive, enabling users to put in the living room and connect it with LCD TV. It can also play a variety of video and music file formats to solve the problems of insufficient home DVD player file format.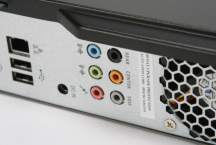 7.1 Stereo Surround Sound Provides the Excellent Sound Experience
Whether it is for 3D entertainment or videos, Wind NetTop D130 enables users to experience gorgeous videos and excellent sound.
Wind NetTop D130 supports 7.1-channel surround sound output. Through the restore sound field, even the small space can also have a big theater-like sense of space. It comes with the built-in high-watt speakers and heavy bass, showing clear treble and powerful bass. Whether it is music or opera, Wind NetTop D130 offers the perfect performance.