The ASUS W90 represents a shift in the manufacturing and designing of the notebooks of today, where style plays an equally important role as performance.


Bridging the Gap between Form and Function, the ASUS W90 Delivers Both Style and Performance in One Stunning Package

In blending the two elements together, the ASUS W90 can be likened to a high performance sports car—providing users with exhilarating performance and immaculate charm. Be it for entertainment or for work, the ASUS W90 is the definitive notebook for the modern, discerning consumer with an eye for design and attention to performance.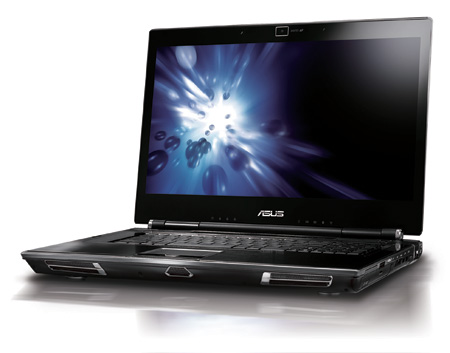 Designed For the Soul
An exquisite brushed aluminum top cover greets the user, conveying a sense of class and prestige. An ultra bright, high definition LCD display lends an air of sophistication with its flushed design, redolent of a top-of-the-range LCD television. These stylish features adorn a refreshingly clean and streamlined chassis, with speakers that are designed like the heating vents of a performance sports car. The cumulative effect of these design highlights imbues users with a sense of panache and power that only the W90 can provide.
Strength in Numbers: World Leading Graphical Performance and Memory Design
Powered by the dual graphics ATI Mobility Radeon™ HD 4870 X2, the W90 is capable of reaching the world's best graphical performance for a notebook with an astonishing 3D Mark 2006 score of 15,000. The W90 also offers other graphical choices with either the ATI® Mobility Radeon™ HD3850 X2 or the NVIDIA® GeForce™ 9800M GS; and complemented by a seamless Full HD1080p, 18.4" widescreen display with a 16:9 golden aspect ratio high definition ultra bright LCD display, the W90 delivers a truly stunning visual experience.
The W90 is also the world's first notebook equipped with a 3 x SO-DIMM mainboard design; with a maximum RAM capacity of 6GB of DDR2-800 memory. This massive speed, coupled with an Intel® Core™2 Duo processor, provides the W90 with the muscle for extensive multitasking. Dual hard disk drives provide up to one terabyte of storage capacity, allowing users to do more, as well as store more documents or multimedia.
Multimedia performance is definitely another forte of the W90, with 6 Altec Lansing speakers shaped in the form of a sports car's heating vents producing true 5.1 channel audio enjoyment via 5 speakers and an integrated subwoofer; while the 2nd generation Dolby™ Home Theater complements this ensemble perfectly to provide a symphonic audio experience. The combination of audio and visual enjoyment delivers a mind-blowing mix of high definition audio and visual entertainment that can be easily controlled via the ASUS exclusive AI Touch Media, an intuitive control panel located beside the keyboard on the notebook that combines a hardware and software interface for full control of videos, photographs, music, and various other forms of multimedia.
Turbo Performance beyond the limit – Turbo Gear
The ASUS W90 also comes equipped with the Turbo Gear function, which allows you to overclock your system to significantly increase its performance by up to 25%*, so that you can enjoy audio and video playback while gaming and web-browsing simultaneously.
Specifications
Processor and Cache Memory
Intel® Core™2 Duo processor T9600/T9400/P8600/P8400
Intel® X38 + ICH10R Chipset, FSB=1066 MHz
Operating System
Microsoft® Vista 64 bit SP1 Premium
Main Memory
DDR2 800MHz, up to 6GB, 3xSO-DIMM slots support
Display
– 18.4" widescreen HD ultra-bright LCD display (W90Vp/W90Vn)
– 17" widescreen WUXGA ultra-bright LCD display (W90V)
Graphics Card
– ATI CrossFireX™ technology with ATI Mobility Radeon™ HD 4870 graphics, GDDR3 1024MB VRAM (W90Vp)
– NVIDIA GeForce 9800M GS, GDDR3 1024MB VRAM (W90Vn)
– ATI CrossFireX™ technology with ATI Mobility Radeon™ HD 3850 graphics, GDDR3 1024MB VRAM (W90V)
Hard Disk Drive
320 + 320GB / 250 + 250GB / 500 + 500GB (5400rpm)
Optical Drive
Blu-ray Combo/ DVD Super Multi DL
Video Camera
2.0M Pixels Auto Focus Webcam
Communication
– 802.11 Draft N wireless connection
– BlueTooth 2.1+EDR
– 10/100/1000 Mbps Ethernet
– 56k Modem
Audio
5.1 channel Altec Lancing speaker (w/ subwoofer),
2nd Generation Dolby™ Home Theater
Interface
– 1 x HDMI
– 1 x E-SATA
– 4 x USB 2.0
– IEEE 1394
– VGA-out (D-Sub)
– Headphone (SPIDIF)
– Mic-in
– 8 in 1 Card Reader
– 1 x Express Card
– 1 x CIR
– RF-in (w/ TV SKU)
– 1 x Modem jack (RJ11)
– 1 x LAN port (RJ45)
*Actual performance figures differ and are dependent on product specifications and usage.
* Subject to system configuration and usage.
Note: Specifications are subject to change without prior notice. Please visit www.asus.com for more information.